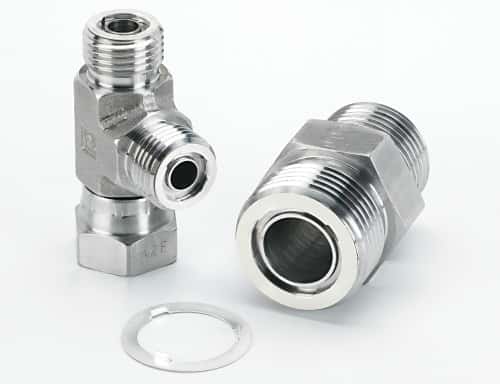 Parker Hannifin Corp. has introduced Seal-Lok Xtreme, a tube fitting solution whose applications include liquefied natural gas (LNG) storage and fueling systems.
The company says this O-ring face seal tube fitting is equipped with a metal sealing ring that makes it ideal for applications where typical elastomeric sealing is not a possibility due to extreme temperature.
Seal-Lok Xtreme is a new addition to the Parker line of Seal-Lok tube fittings. The company says the product has been extensively tested for thermal cycle and shock and has performed well with helium mass spectrometer and gas pressure leak testing. The Seal-Lok Xtreme achieves superior tube and hose connections at working pressures of up to 5,850 psi with temperatures as low as -328 degrees F (-200 degrees C) and as high as 1,200 degrees F (650 degrees C), according to Parker.
Â
In addition to LNG storage and fueling systems, applications benefiting from Seal-Lok Xtreme include combustion turbines, cryogenic equipment, high-temperature engine compartments, instrument panels and chemical process equipment.
'Applications such as liquefied natural gas and gas combustion turbines often pose challenges to a tube fitting's elastomeric sealing,' says Ted Amling, senior project engineer at Parker Hannifin's Tube Fittings Division. 'Rather than using a standard sealing ring, Seal-Lok Xtreme utilizes a patented metal sealing ring that improves sealing dependability against the severe temperature or chemical compatibility issues that reduce the life of elastomeric seals.'