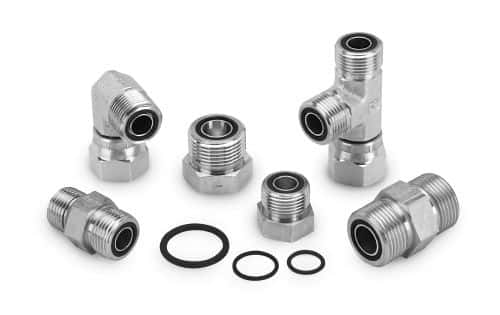 Parker Hannifin Corp. says it recently expanded its Seal-Lok O-ring face seal tube fitting line to accommodate compressed natural gas (CNG) applications.
According to the company, Seal-Lok for CNG provides reliable fuel conveyance using an elastomeric seal compound specifically designed to address the needs of the market. It is also certified for on-vehicle CNG applications under NGV 3.1, ECER110 and ISO 15500 standards.
Â
Parker Hannifan says the Seal-Lok technology, available in tube and hose sizes ranging from 1/4′ to 3/4′ (6 mm to 20 mm), enhances the performance and reliability of O-ring face seal SAE J1453 connections.
The company says key features of Seal-Lok for CNG applications include the following:
– Availability in stainless steel, steel and XTR-plated (zinc nickel) steel;
– Temperature compatibility of -40° to 300° F (-40° to 150°C);
– Zero clearance for easy plumbing;
– Unlimited reusability due to easily replaceable O-ring; and
– Port options including SAE J1926-1/ISO 6149-1 straight thread ports and NPT tapered ports.