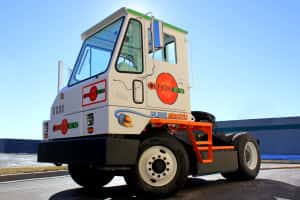 Missouri-based Orange EV has announced it is now offering all-electric terminal trucks for on-road use in addition to the trucks it produces for off-road use.
Last year, the company debuted its T-Series all-electric truck, which is designed for use in off-road hauling at intermodal, distribution, parcel/package delivery, trucking and other terminals. Now, Orange EV says operators moving trailers among different facilities and requiring on-road access can also opt for a T-Series truck.
The T-Series is a retrofit solution whereby Orange EV converts existing diesel-powered terminal trucks to pure electric, replacing the powertrain and control systems while refurbishing the rest of the truck to like-new condition. This conversion approach recycles and reuses the chassis and other durable components, eliminating waste and extending the life of the truck, the company says.
Orange EV notes that its T-Series qualifies for financial incentives through Drive Clean Chicago (DCC). The incentive amounts recently increased to $150,000 per truck, and the on-road T-Series is also approved for the DCC incentive.
Photo courtesy of Orange EV