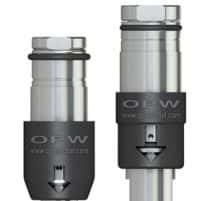 OPW has announced that its FLB series of in-line breakaways for commercial, industrial and retail compressed natural gas (CNG) fueling applications has achieved third-party approval to relevant NGV, ISO and TUV standards. In addition, the company says it maintains Canadian Registration Numbers on the series.
The company first debuted its OPW CNG FLB-1000 and FLB-5000 products in September 2014. OPW says the stainless-steel breakaways are lighter in weight than previous offerings while featuring higher fuel-flow rates. The pressure-balanced design allows for burst pressures up to 18,130 psi (1,250 bar), and the products are 100% leak- and breakaway-tested.
Furthermore, OPW notes that many of its other CleanEnergy Fueling products have third-party approvals. For more information on the FLB series and additional OPW solutions, click here.