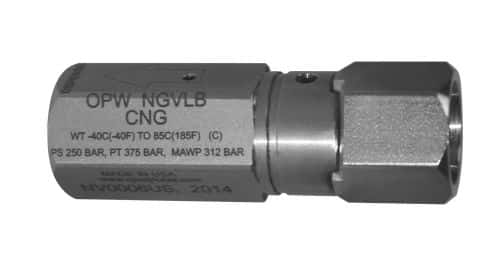 OPW has debuted its new NGVLB Model CNG Vent Line Breakaway: a pressure-balanced, in-line breakaway that integrates into the vent side of compressed natural gas (CNG) refueling hoses.
The company says this new offering is a direct upgrade/replacement for its VLB Vent Line Breakaway. For CNG applications, the product's pressure-balancing (to 18,129 psi/1,250 bar) is designed to minimize separations caused by surges in pressure while the fuel dispenser is venting.
The NGVLB consists of a stainless steel body and internal components, paired with special corrosion-resistant seals that improve overall performance and durability between -40 degrees F and 185 degrees F. The product is designed for use with any of OPW's high-pressure Fill Line Breakaways at service pressures up to 3,600 psi/250 bar.
In the event of a drive-away, the NGVLB is reconnectable without tools, and it separates with only 15 pounds of disconnection force, OPW adds.
OPW is a Dover Company that specializes in fluid-handling solutions and related technologies. Click here for more details about the NGVLB and other OPW products for CNG, propane autogas and hydrogen refueling.