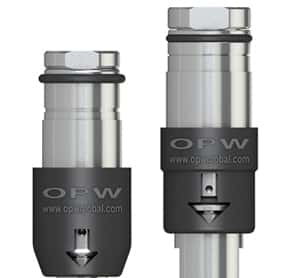 OPW CleanEnergy Fueling Products has debuted its new OPW CNG FLB-1000 and FLB-5000 in-line breakaways for commercial, industrial and retail compressed natural gas fueling applications.
The company says these stainless-steel breakaways, which meet NGV 4.4 requirements, are lighter in weight than previous offerings while featuring higher fuel-flow rates. The pressure-balanced design allows for burst pressures up to 18,130 psi (1,250 bar), and the products are 100% leak- and breakaway-tested.
Additionally, polyurethane seals, bumper guards and an integrated cover help to protect dispensing equipment and provide a higher standard of protection during normal operation and in the event of human error. In terms of serviceability, the breakaways can be can be serviced in the field using standard tools and are easily reconnected in the event of an accidental drive-away.
OPW notes that the new products are also available as a kit: the FLB-1000 and/or FLB-5000 breakaways coupled with OPW's Next Generation Vent Line Breakaway (NGVLB).
For additional information, call (937) 329-0032 or send an email to erik.shelton@opwglobal.com