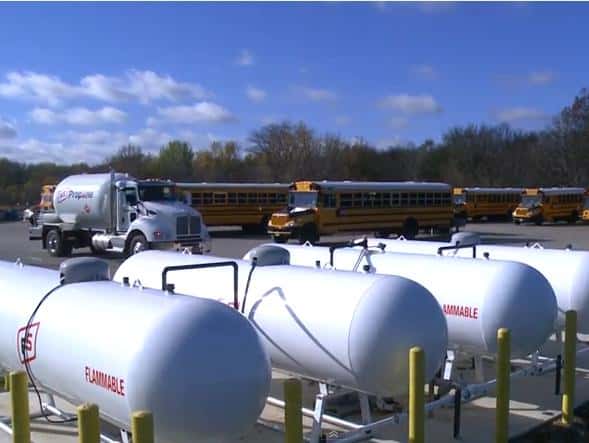 The Olympia Community Unit #16 School District, based in Stanford, Ill., says it has seen significant benefits with its propane-powered school buses.
The district started with two propane buses and now has a total of 12 – nearly one-third of its 33-bus fleet. The rest of the fleet runs on diesel fuel. Because the buses travel an average of 20,000 miles per year, Olympia's administration is very conscious of fuel and maintenance costs.
Josh Olsen, assistant superintendent for Olympia, estimates each propane bus saves the district $2,500 per year in fuel and maintenance costs, and he figures that the buses will save $300,000 over their 10-year lifetime.
Olson says the savings are not the only benefit of the propane buses: The vehicles are also quiet and cleaner burning.
"I love the fact that when our buses pull up to the schools at the beginning or end of the day, we're not sitting there creating a cloud of fumes right outside the school," he says.
The district's propane-powered Blue Bird Vision buses are equipped with a Ford 6.8L V10 engine and a propane fuel system from ROUSH CleanTech.
Evergreen FS, based in Bloomington, Ill., works closely with Olsen to supply the fuel to the district's clean fleet. Evergreen has also set up and continuously services and maintains the four 1,000-gallon propane tanks on-site. The company says the storage typically provides a seven- to eight-day supply of propane.