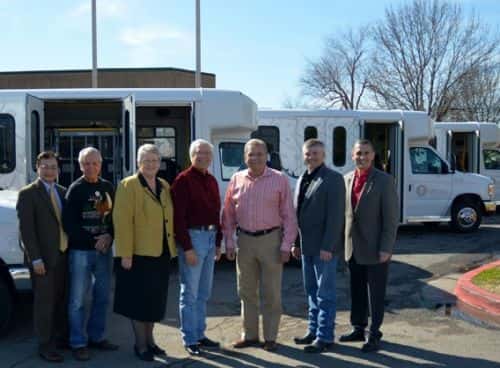 The U.S. Department of Transportation's Federal Transit Administration (FTA) has awarded grants to American Indian tribes in Oklahoma to help fund compressed natural gas (CNG) bus projects.
The FTA is funding the Oklahoma projects as part of a larger $10 million grant round to help American Indian and Alaska Native tribal governments initiate, improve and enhance transit service on Tribal Lands.
"Public transportation connects people and communities to jobs, education and healthcare," says U.S. Transportation Secretary Anthony Foxx in a press release. "These and other Tribal Transit grants provide funding for buses, vans and transportation planning that helps ensure that everyone can access critical services and economic opportunity."
The money, which is awarded through the FTA's Tribal Transit Program, will provide grants to 55 tribes for 65 competitively selected transit-related projects in 18 states. The projects will receive awards from a combination of fiscal year 2014 and 2015 annual discretionary funds.
According to the FTA, the Cherokee Nation of Oklahoma will receive $92,500 to purchase replacement CNG buses to continue providing reliable public transportation for residents to travel to jobs and services in the Oklahoma counties of Dair, Cherokee, Craig, Delaware, Mayes, Nowata, Ottawa and Rogers. The FTA says the service is well used: In 2014, the Cherokee Nation provided 79,776 bus rides, a 114% increase over the previous year's 37,296 rides.
In February, the Cherokee Nation swapped out four of its gasoline-powered transit buses with new CNG models, thanks to a $300,000 FTA grant it won the year before.
"Transitioning our bus fleet to CNG means the Cherokee Nation transportation efforts are now more environmentally friendly, more efficient and more cost-effective in the long term," said Cherokee Nation Secretary of State Chuck Hoskin Jr. in February. "By using CNG, we'll be able to get better miles per gallon, stretch our dollars and lead by example."
Also in Oklahoma, the Muscogee (Creek) Nation will receive $216,175 in new FTA funding to replace CNG buses that bring riders from the rural areas to work in Okmulgee and veterans to the VA Hospital in Muskogee as part of its Workers/ Veterans Avenue to Independence Project.
Furthermore, the FTA says the United Keetoowah Band of Cherokee will receive $112,000 to increase the tribe's ability to use CNG and convert transit vehicles to the alternative fuel, allowing a more economically and environmentally sound transit system with improved service and reliability in Muskogee and Stilwell counties, Okla.
Notably, funding for the Tribal Transit Program was increased to $30 million under the Fixing America's Surface Transportation (FAST) Act, which was signed into law by President Barack Obama earlier this month and included several provisions that are expected to advance the natural gas vehicle industry.
Photo courtesy of the Cherokee Nation of Oklahoma: A February photo of new CNG shuttles the tribe added to its fleet.