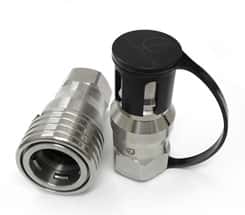 Oasis Engineering Ltd. is debuting two new products designed for high-pressure compressed natural gas (CNG) use: the HC308 Ultra Fast Flow Quick Coupler and the IB108 Ultra Fast Flow Inline Breakaway.
Oasis says it re-engineered the HC308 to have three times the flow factor of its successor, the HC208 coupler. Applications include fast-flow filling systems, storage cascade to trailer/transporter, trailer/transporter connection to daughter compressor, and direct feed to CNG dispensers.
The one-inch IB108 inline breakaway, meanwhile, is a safety device in case a trailer drives away without disconnecting the hose from the fill post. Applications include high-flow CNG systems, such as virtual pipeline transport trailers and bulk storage, as well as CNG load/unload.
The new products are slated to be available in February.
Photo: The Oasis HC308 Ultra Fast Flow Quick Coupler, courtesy of Oasis Engineering Ltd.