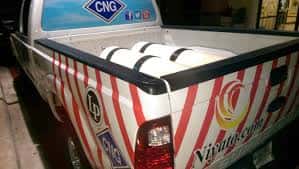 Niyato Industries says it has installed the first-ever tri-fuel system that supports gasoline, compressed natural gas and propane autogas on a Ford F-350 4X4 pickup truck. This developmental vehicle is undergoing rigorous testing by Keith Thompson, head of Niyato Industries' calibration and system design team.
"Our goal is not remaking the wheel, but making it roll more smoothly," says Niyato CEO Leslie Stencil.
The propane application of this new tri-fuel system will only need a different tank for propane storage and a vaporizer that can be ordered when the retrofit facility makes its order based on the fleet operator's original purchase order agreement. The U.S. Environmental Protection Agency and California Air Resources Board certification will cover all weight and body configurations for the Ford F-250 and Ford F-350 with the 6.2 liter V8 motor made from 2012 to 2016.
Niyato says it is simplifying the ordering process as far as costs are concerned, making the pricing for the low-pressure side of the system the same for all Ford F-250 and F-350 platforms.