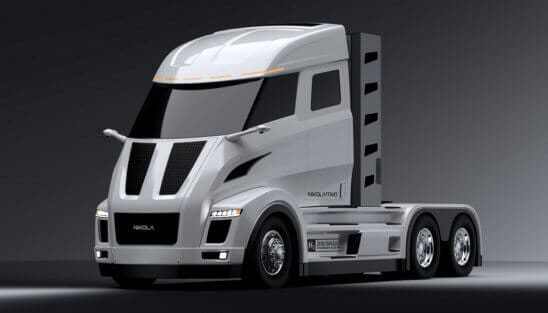 Gov. Doug Ducey, R-Ariz., and Salt Lake City-based Nikola Motor Co. have announced the company has selected Buckeye, Ariz., for its hydrogen-electric semi-truck manufacturing headquarters facility and expects to ultimately create over 2,000 jobs. According to Nikola, the new 500-acre, 1-million-square-foot facility will be located on the west side of Phoenix and will bring more than $1 billion in capital investment to the region by 2024.
The announcement comes after several previous milestones in Nikola's effort to commercialize its hydrogen-electric semi-trucks, which the company first revealed in December 2016. Since that unveil, Nikola has made key partnerships with suppliers Bosch and PowerCell AB, expanded its executive team, and secured a $10 million investment from Belgium-based WABCO Holdings Inc. According to the company, it now has over 8,000 pre-orders for its trucks.
Trevor Milton, CEO and founder of Nikola Motor Co., says it decided to located the company's truck manufacturing plant in Arizona "after 12 months, nine states and 30 site locations."
According to Milton, "Arizona has the workforce to support our growth and a governor that was an entrepreneur himself. They understood what 2,000 jobs would mean to their cities and state. We will begin transferring our R&D and headquarters to Arizona immediately and hope to have the transition completed by October 2018. We have already begun planning the construction for our new zero-mission manufacturing facility in Buckeye, which we expect to have under way by the end of 2019."
Nikola says it selected Buckeye, Ariz., due to numerous factors, including the state's pro-business environment, engineering schools, educated workforce and geographic location that provides direct access to major markets.
"Nikola Motor Company's selection of Arizona demonstrates that we are leading the charge when it comes to attracting innovative, industry-disrupting companies," says Gov. Ducey. "This incredible new technology will revolutionize transportation, and we're very proud it will be engineered right here in Arizona. I thank Nikola's CEO Trevor Milton and his entire team for this significant investment in our state."
Development of the manufacturing plant on a 500-acre parcel at Sun Valley Parkway and the future Wintersburg Parkway is projected to begin by the end of 2019. The site is at one of the entrances to Douglas Ranch/Trillium, a new master planned community being developed by El Dorado Holdings and JDM Partners; this community is projected to ultimately be home to more than 300,000 residents, according to Nikola.
"I've worked on many economic development issues in my career, but being part of this team that brings Nikola Motors to Arizona is very satisfying," says Mike Ingram, founder and chairman of El Dorado Partners. "We look forward to announcing additional partners who will join Nikola at Douglas Ranch in the near future as we start to build momentum and unlock its full economic power."
Photo courtesy of Nikola Motor Co.