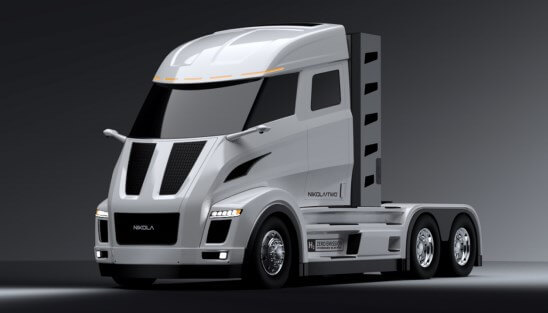 Belgium-based WABCO Holdings Inc., a global supplier of technologies and services for commercial vehicles, has invested $10 million to acquire a 1% stake in Nikola Motor Co., a Salt Lake City-based vehicle technology startup planning to manufacture hydrogen-electric semi-trucks.
In addition to the strategic investment, WABCO and Nikola signed an agreement to accelerate the development of safety technologies specifically designed for electric commercial vehicles, including electronic braking systems (EBS) and traction and stability control technologies.
"As vehicles become increasingly autonomous, electric and connected, WABCO continues to be at the forefront of breakthrough technology innovation," says Jacques Esculier, WABCO chairman and CEO. "We are excited to invest in Nikola Motor Co. to help the industry realize our joint vision of electrified and autonomous trucks, buses, trailers and off-highway vehicles. WABCO's technologies, notably industry-leading braking, traction and stability control systems, continue to advance the transportation industry."
In 2016, Nikola officially unveiled Nikola One, a sleeper version of its hydrogen-electric truck, and the company also plans to produce the Nikola Two, a day-cab option. Nikola claims the zero-emission trucks will provide a range of 800 to 1,200 miles while delivering over 1,000 horsepower and 2,000 ft. lbs. of torque. The company also recently named Bosch and PowerCell AB as its primary fuel cell suppliers and added new executives.
"Here at Nikola, we are driving a paradigm shift in the transportation industry by creating the most advanced semi-truck ever built. WABCO is a vital business partner to enable autonomous driving, electronic braking, and stability control for trucks and trailers," says Trevor Milton, Nikola founder and CEO. "WABCO is recognized as a global leader in safety and efficiency technologies for next-generation commercial vehicles. We have added a world-class supplier to the Nikola truck family and are looking forward to our collaboration to bring Nikola's zero-emission trucks to market."
According to Nikola, the company plans to begin testing its hydrogen-electric trucks with commercial vehicle fleets in late 2018 and launch full production in 2021.
Image courtesy of Nikola: The fully electric Nikola Two day-cab truck