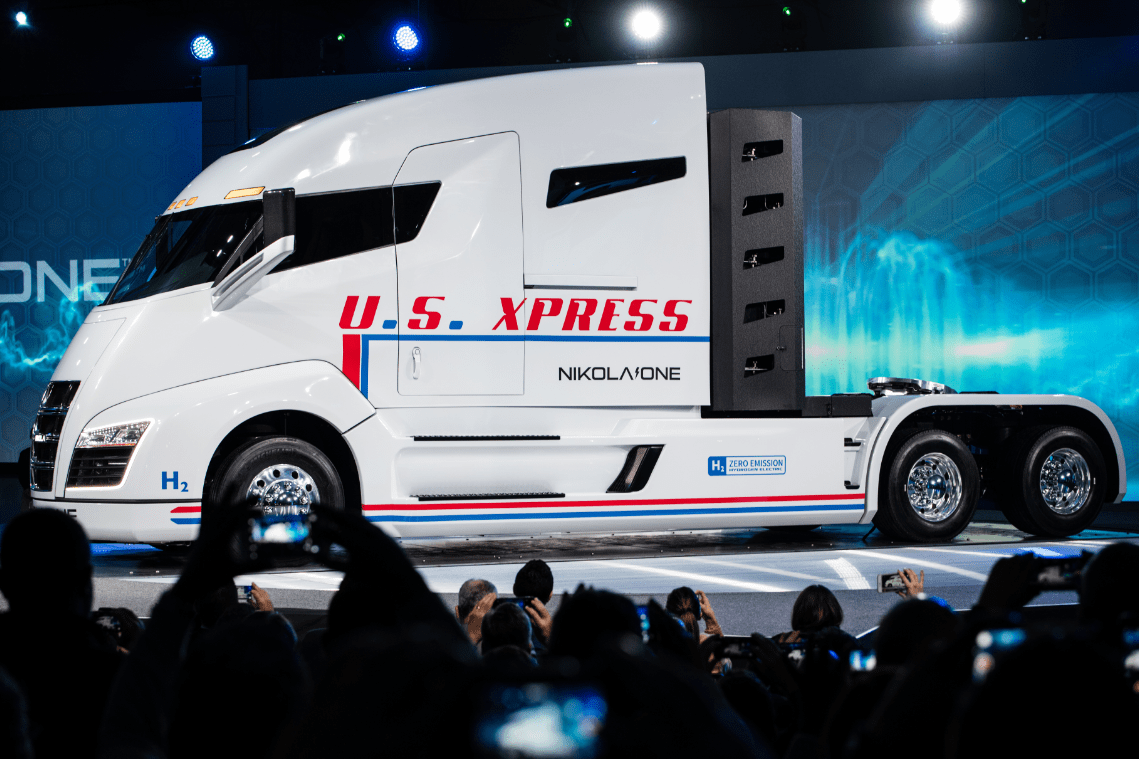 At the launch event on Dec. 1 in Salt Lake City, Nikola Motor Co. officially unveiled its Nikola One electric semi-truck and named fleet management firm Ryder System Inc. as its exclusive nationwide distribution and maintenance provider.
The Nikola One utilizes a fully electric drivetrain powered by high-density lithium batteries. Energy will be supplied on-the-go by a hydrogen fuel cell, giving the Nikola One a range of 800-1,200 miles while delivering over 1,000 horsepower and 2,000 ft. lbs. of torque – nearly double that of any semi-truck on the road.
According to the company, the Nikola One leasing program will include unlimited hydrogen fuel, warranty and scheduled maintenance during a 72-month term. To date, Nikola Motor Co. says it has accepted reservations totaling nearly $3 billion dollars in future orders.
In addition, the company says it will build an advanced manufacturing plant, the location of which will be determined in the first half of 2017.
Nikola Founder and CEO Trevor Milton also announced the company's plan for a network of Nikola hydrogen fueling stations across the U.S. and Canada. Nikola expects to begin construction on its hydrogen fueling stations in January 2018.
Commenting on the new strategic partnership, Ryder's president of global fleet management solutions, Dennis Cooke, said, "We commend Nikola for its leadership in zero-emission vehicles and for its decision to partner with Ryder as their exclusive nationwide distribution and maintenance provider. This relationship is key to expanding our advanced vehicle technology portfolio of innovative solutions. Ryder continually monitors emerging fleet technologies and seeks to establish relationships with companies that are leading innovation within the commercial transportation industry."
In addition to Ryder System's national coverage, with a network of over 800 service locations across North America, Thompson Machinery, a Caterpillar dealer and an early investor in Nikola Motor Co., will also offer sales and service in Tennessee and Mississippi.
Further, Nikola Motor Co. also unveiled its plans for a 1,000 lb., 107 kWh battery pack for its electric utility task vehicle (UTV), the Nikola Zero.
"Our battery engineers have made major advances in storage and cooling," said Milton. "We believe our lithium battery packs are more energy dense and weigh less than any available vehicle production pack per kWh. This new battery pack should give our UTV over 300 miles of range on a single charge," adds Milton.
Nikola plans to offer its patent-pending battery packs to OEMs for purchase beginning in 2017.
Photo courtesy of Nikola Motors Co.