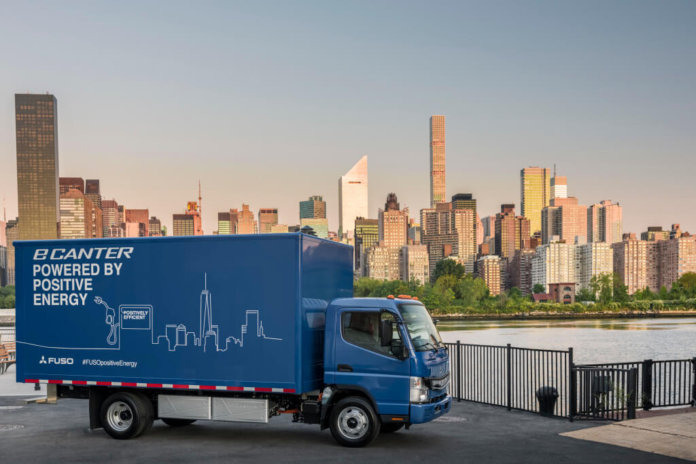 Mitsubishi Fuso Truck and Bus Corp. (MFTBC), part of Daimler Trucks, has announced the global launch of its FUSO eCanter.
The vehicle will be delivered to customers starting this year in the U.S., Europe and Japan. MFTBC is planning to deliver 500 units of this generation to customers within the next two years, and larger-scale production is intended to start in 2019.
At today's launch in New York City, UPS – certainly no stranger to alt-fuel vehicles – was announced as the first U.S. commercial partner for the eCanter.
"At UPS, we constantly evaluate and deploy advanced technologies that enable sustainable, innovative solutions for our fleet," says Carlton Rose, president of global fleet maintenance and engineering at UPS. "Electric trucks make our fleet both cleaner and quieter, adding to our already more than 8,500 alternative drivetrain vehicles in service today. We have a long-standing global relationship with Daimler, and we welcome the opportunity to trial the FUSO eCanter as UPS continues to realize the benefits of electric trucks."
In coordination with the office of New York Attorney General Eric Schneiderman, MFTBC also will supply a fleet of FUSO eCanter trucks to New York-based nonprofits, including the Wildlife Conservation Society, the New York Botanical Garden, Habitat for Humanity New York City and Big Reuse Brooklyn.
According to Daimler, the FUSO eCanter has a range of 100 kilometers (roughly 62 miles) and a load capacity up to 3.5 tons, depending on body and usage. The vehicle's electric powertrain contains six high-voltage lithium-ion battery packs with 420 V and 13.8 kWh each.
Daimler notes that the new vehicle has been in the making for several years: At the 2010 IAA Commercial Vehicle Show in Hannover, Germany, FUSO presented a prototype of an electrically powered Canter E-Cell, leading into a pre-series production for testing purposes in 2014. Now, the FUSO eCanter benefits from the extensive experience of customer trials conducted in Portugal and Germany with the pre-series vehicles between 2014 and 2017. In May of this year, MFTBC announced its first commercial customer for the new in-line series-production vehicle in the Japanese market: Seven-Eleven Co. Ltd. will be operating 25 units of the eCanter in its fleet.
Daimler says the FUSO eCanter will be fully integrated in the production line for the conventional combustion FUSO Canter truck. This past July, MFTBC celebrated the start of production of eCanter in Tramagal, Portugal; the production plant will assemble all eCanter vehicles for the European and U.S. markets.
Marc Llistosella, head of Daimler Trucks Asia, says, "In times when everybody is talking about electric trucks, we are the first to actually commercialize a series-produced all-electric truck. Having a long history in alternative drivetrains, we are proud to step into this new era. Our FUSO eCanter comes with years of customer testing and the assurance of parts, services and warranty through our global FUSO dealership network."