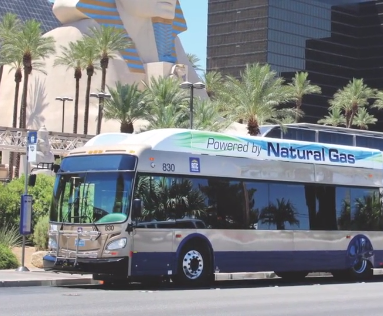 New Flyer of America Inc., a subsidiary of New Flyer Industries Inc., the largest heavy-duty transit bus and motor coach manufacturer and parts distributor in North America, has announced that Nassau Inter-County Express (NICE), located in Garden City, N.Y., has exercised options under its current contract for 28 heavy-duty 40- and 60-foot Xcelsior compressed natural gas (CNG) buses (or 38 equivalent units, or EUs).
Operated by Transdev Services in the state of New York, NICE is the local bus system serving Nassau County, parts of western Suffolk County and eastern portions of Queens.
According to New Flyer, the options exercised under this contract include an order for 28 40-foot Xcelsior CNG buses and five (10 EU) 60-foot Xcelsior CNG buses. Once completed, 25 buses will remain on the contract to be exercised at a later date.
New Flyer states that the 28 40-foot buses will replace existing buses in the NICE fleet that have reached the end of their useful life, while the five 60-foot buses will be used on the customer's new bus rapid transit line, scheduled to start service this year.
The option quantities for this award were mentioned in New Flyer's 2016 third-quarter results announced on Nov. 11, 2016, and have been accounted for in New Flyer's backlog.
This is only the latest news from New Flyer concerning its Xcelsior CNG buses.
The transit company recently announced that the Valley Metro Regional Public Transportation Authority in Phoenix placed an order for up to 21 heavy-duty, 60-foot Xcelsior CNG buses (or 42 EUs) to replace aging fleet vehicles.
That contract includes a firm order for 10 (20 EUs) 60-foot Xcelsior CNG buses valued at approximately $9 million, with the option to purchase up to an additional 11 (22 EUs) XN60 buses over the five-year contract term.