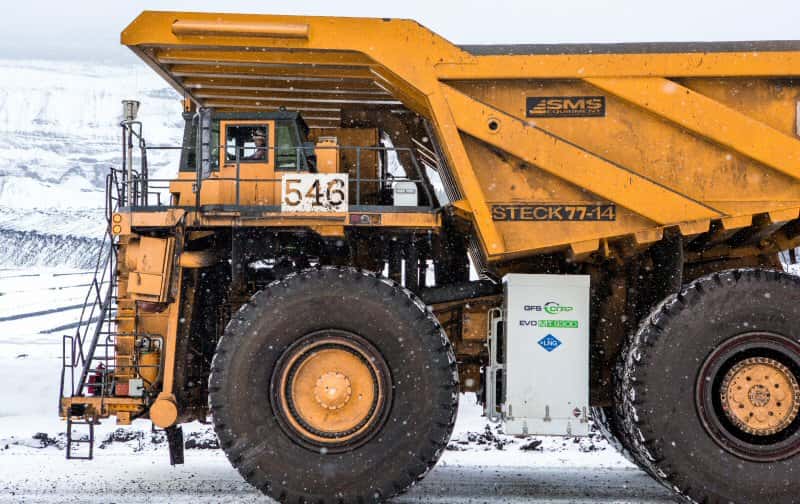 Teck Resources Ltd., a Canada-based diversified mining company, is piloting the use of liquefied natural gas (LNG) as a fuel source in six haul trucks at its Fording River steelmaking coal operation in British Columbia.
The company says the use of blended LNG/diesel-fueled haul trucks has the potential for significant environmental benefits and cost savings. Energy company FortisBC is transporting and supplying LNG to the mine site and is making a financial contribution toward the pilot.
The pilot is one of the steps Teck is taking to achieve its long-term target to reduce annual greenhouse-gas emissions.
"LNG is a fuel source that has the potential to lower costs, significantly reduce emissions and improve environmental performance at our operations," states Don Lindsay, president and CEO of Teck. "We are committed to minimizing our own carbon footprint while at the same time continuing to provide the mining products that are essential to building a modern, low-carbon society."
Teck, with support from FortisBC, has upgraded the Fording River operations truck maintenance shop, provided engine conversion kits, installed fueling facilities and implemented a comprehensive safety program in advance of the pilot.
"Teck is demonstrating leadership by adopting natural gas as a cleaner and more cost-effective fuel solution for their operations," says Michael Mulcahy, president and CEO of FortisBC. "Today's announcement further builds on the diversity of the more than 400 natural gas-fueled vehicles in British Columbia."
The pilot is expected to run until mid-year 2016 and will provide more information about the potential of using LNG more broadly across Teck's haul truck fleet, creating the opportunity for further fleet conversions to LNG in the future.