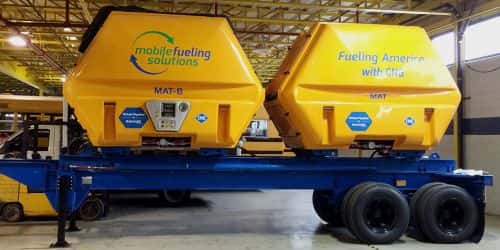 New York-based Mobile Fueling Solutions (MFS) has received delivery of its first Virtual Pipeline compressed natural gas (CNG) refueling system and has already inked deals to supply CNG to several local fleets.
Galileo Technologies, creator of the Virtual Pipeline solution, designed the system to transport natural gas by road where there are no pipelines. MFS will be the first company to offer the mobile CNG stations in the U.S. and says the systems will allow fleets to avoid installing their own fueling sites.
'Through the Virtual Pipeline technology, we want to broaden the scope of the current natural gas infrastructure,' says Dean Sloane, CEO of MFS.
MSF's new Virtual Pipeline system uses a VST-2 trailer equipped with two MAT containers. The first container transports 28 horizontal cylinders and 297 GGE of CNG; the second one, 39 cylinders and 418 GGE.
MFS anticipates delivery of a second Virtual Pipeline system within the next few months.
Sloane says that although MFS is still working to obtain necessary approvals to deploy Virtual Pipelines in New York, he expects the first refueling unit to be in operation by early February. Furthermore, he says the company has signed CNG-supply deals with about half a dozen fleets so far.
MFS will fill up its mobile systems at a CNG station in Long Island, N.Y. The company is also building its own main station in Orangetown and plans to launch that facility in July.
Photo courtesy of Galileo Technologies.