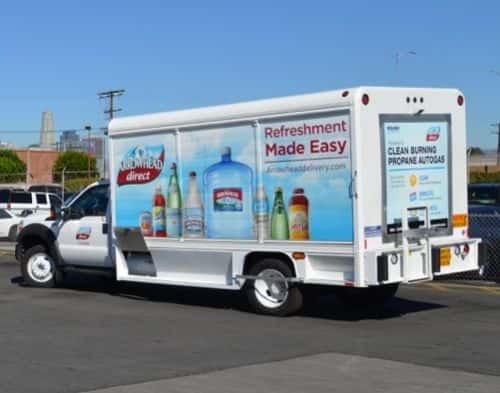 Nestle Waters North America, a large beverage company based in Stamford, Conn., has deployed five medium-duty propane autogas trucks in its Los Angeles service area to deliver Arrowhead spring water to customers.
'We are evaluating the different technologies that offer savings over the life of the vehicle and realize that propane autogas is a smart choice for reducing fuel and maintenance costs,' says Bill Ardis, fleet manager for Nestle Waters.
The Ford-chassis trucks feature CARB- and EPA-compliant propane autogas fuel systems from ROUSH CleanTech, each with 45 usable gallons of on-board propane storage. The trucks maintain their full factory warranties.
Nestle Waters notes that its Los Angeles location will host on-site propane autogas refueling infrastructure in order to accommodate the new fleet.
'Fueling beverage delivery trucks with propane autogas offers the best total cost of ownership, without compromising standard delivery procedures,' says Todd Mouw, vice president of sales and marketing for ROUSH CleanTech.
Nestle Waters operates a significant fleet – more than 2,000 trucks. For now, they are primarily fueled by diesel.