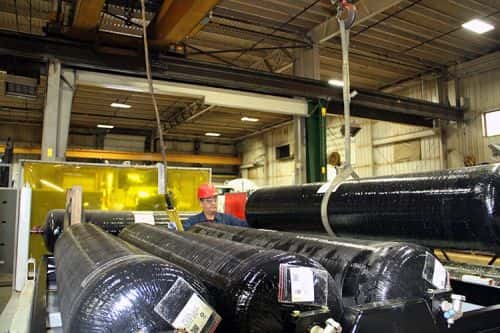 McNeilus Truck & Manufacturing Inc. – an Oshkosh Corp. company – says it has introduced significant enhancements to its NGEN compressed natural gas (CNG) systems and services.
According to the company, this portfolio of upgrades improves performance and reliability through enhanced fill efficiency, plumbing optimization, and best-in-class service and support.
'With more than 30 years of experience in the refuse, mixer and other heavy-duty industries, McNeilus has engineered significant improvements to our already industry-leading NGEN CNG systems," says Brad Nelson, Oshkosh Corp. senior vice president and president of the commercial business segment. "The adoption of CNG as an alternative to diesel fuel is accelerating, and these upgrades represent a major investment, driven to better meet the needs of our customers."
The company says its NGEN fuel delivery system now features improved capabilities, with optimized internal diameters that offer up to 30% improved fill times that compare favorably to that of traditional diesel fuel. Streamlining the design has reduced the number of plumbing components by 25% and the number of connections by 50%, adds McNeilus.
NGEN systems also offer continuous protection thermal pressure relief devices (PRDs) on all configurations that span the length of the tank and system, increasing protection against localized thermal events. According to the company, typical PRD configurations contain more high-pressure plumbing and have less thermal sensing surface.
For enhanced serviceability and reliability, o-ring face seal (ORFS) fittings have been integrated, where possible. The company says ORFS fittings can be tightened to proper torque values, thus mitigating assembly/reassembly errors.
NGEN CNG systems and services are available on new vehicles or customer-supplied vehicles as up-fits through the company's national network of installation centers. McNeilus says its systems meet all NFPA-52 standards and are installed by the company's factory-trained technicians. NGEN CNG systems are backed by a two-year standard warranty. In addition, McNeilus says it carries a comprehensive inventory of replacement parts on hand at its regional installation centers.
"Through our national network of factory-owned branches, our mobile technicians are certified to provide industry-required three-year, 36,000-mile inspections. We are in a unique position to deliver unmatched support for fleets of all types," says Nelson.