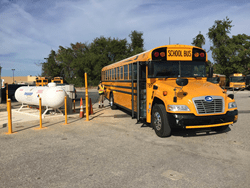 Anne Arundel County students are riding the first school bus fueled by propane autogas in the state of Maryland, according to ROUSH CleanTech. Contractor Jubb's Bus Service Inc. put the propane-powered Blue Bird Vision bus into operation for the 2015-16 school year.
"With the rising costs of diesel maintenance and our interest in incorporating green technologies, it was time to explore our options," says Randall Jubb, president of Jubb's Bus Service. "We are the first contractor in Maryland to offer a school bus fueled by emissions-reducing propane autogas to an area school district – and we have plans to transition 20 percent of our fleet to autogas in the future."
The new Blue Bird Type C bus, equipped with a Ford 6.8L V10 engine and an autogas fuel system from ROUSH CleanTech, replaces an older diesel bus. In concert with the purchase, Sharp Energy has installed an onsite autogas fuel station with 1,000-gallon capacity, and Jubb's Bus Service currently pays almost 45% less for autogas compared with diesel.
"We are proud to partner with a forward-thinking company like Jubb's Bus Service Inc.," comments Brian Carney, group account director for ROUSH CleanTech. "They're joining over 500 other school districts nationwide experiencing the benefits of propane autogas technology: lowering operating costs, maintenance costs and emissions."