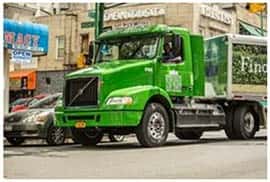 Manhattan Beer Distributors recently expanded its compressed natural gas (CNG) truck fleet and purchased 35 new CNG-powered Volvo VNM 200 model tractors, which feature 9-liter Cummins Westport ISL-G engines.
Manhattan Beer executives say they chose Volvo's regional haul daycab trucks because they offer the durability of a Class 8 model paired with the maneuverability necessary for urban deliveries.
"Volvo Trucks and Manhattan Beer share a concern for the environment and a passion for energy efficiency, so we are proud to help the company expand its fleet of natural-gas-powered trucks," says Goran Nyberg, president of Volvo Trucks North America.
Founded in 1978 by CEO Simon Bergson, who also served as the company's first salesman and truck driver, Manhattan Beer Distributors delivers beer and other beverages throughout New York City. Manhattan Beer bought its first CNG in 2002. Today, the company operates 110 CNG trucks in a total fleet of more than 500, which are predominantly medium-duty straight trucks.
"We are doing what we think is the right thing to do," says Juan Corcino, director of fleet operations for Manhattan Beer. And although the company has taken other steps to be environmentally friendly, including installing solar panels its Bronx, N.Y., headquarters, and by eliminating almost all paper in daily operations, he says, "CNG is the biggest part of our efforts in going green."
Corcino adds that a key reason Manhattan Beer purchased the Volvo models was its existing relationship with local dealer Milea Truck Sales. "Our Volvo dealer is very reliable, and we have a very good relationship," he explains.
In addition, the state-administered New York Truck – Voucher Incentive Program helped Manhattan Beer cover the incremental costs of the first 25 of the 35 Volvo trucks.
Corcino states that the benefits of the new CNG-powered Volvos also extend beyond the environment.
"Drivers love them," he says, noting the quietness of the ride. Furthermore, Corcino says drivers like not having to deal with the emissions-related tasks that are required with diesel-powered trucks. In fact, freedom from the operation and maintenance of diesel particulate filters and selective catalytic reduction systems played a major role in justifying the investment in CNG, he says.
Corcino notes Manhattan Beer's new Volvo models also improve the company's freight efficiency. The company is using its single-rear-axle tractors with trailers that have 16 beverage bays to replace straight trucks with 10 beverage bays. Although the productivity benefits of the new VNM 200 models are not related to CNG power, they do help Manhattan Beer go green: Corcino says the company can replace two diesel-powered straight trucks with each CNG-powered tractor it buys.