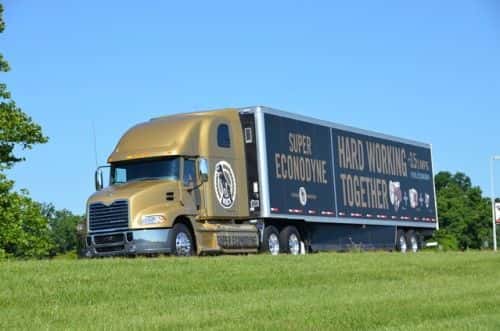 Mack Trucks has put one of its Pinnacle tractors featuring the company's Super Econodyne powertrain package on tour in North America, highlighting its 'industry leadership in fuel efficiency and powertrain integration.'
The Super Econodyne set-up, which is available for all Pinnacle models, features the Mack MP8-445SE engine, mDRIVE automated manual transmission and C125 axles. With the package, the trucks can achieve a 3.5% improvement in fuel efficiency compared to similar vehicles.
'This tour is a dynamic way for customers to experience firsthand the benefits of a Mack integrated powertrain solution,' says John Walsh, Mack Trucks' vice president of marketing.
The tour will bring the Super Econodyne-equipped Pinnacle to Mack dealers throughout the U.S. and Canada.
Photo courtesy of Mack Trucks