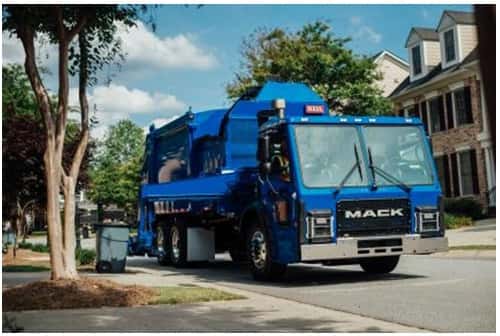 Mack Trucks has introduced its Mack LR low-entry cabover refuse model, which is available in three-axle 6×4 configurations and can be powered by diesel or natural gas.
The 11-liter Mack MP7 diesel engine is standard in the LR model, delivering 325 to 345 HP and 1,200 to 1,280 lb.-ft. of torque, and the Cummins Westport ISL G natural gas engine is optional. The LR model also is equipped with an Allison RDS five-speed or six-speed automatic transmission.
Mack says the LR model offers additional access points and mounting locations for wiring, controls and joysticks, and the company's body builder support group is available to simplify the process and ensure seamless communication among body builders, dealers and customers.
The cab includes tilt and telescopic steering columns, power windows and power door locks, memory mirrors, in-dash air-conditioning, standard in-cab LED lighting and an instrument cluster with color LCD display. The company says steering-column-mounted main gauge pods for the right-hand and left-hand driving positions enhance gauge visibility and improve ergonomics, while centrally mounted radio and HVAC controls, accessible from both driving positions, contribute to a driver-focused cab environment. Furthermore, Mack says the rear cab windows now wrap around the rear cab corners, improving driver visibility.
"At Mack, we work hard to understand our customers' needs and build durable, dependable trucks that get the job done," says Stephen Roy, president of Mack Trucks North America. "By incorporating customer feedback into the LR design, we've built a safer, more comfortable work environment for drivers, boosting productivity and driver retention.'