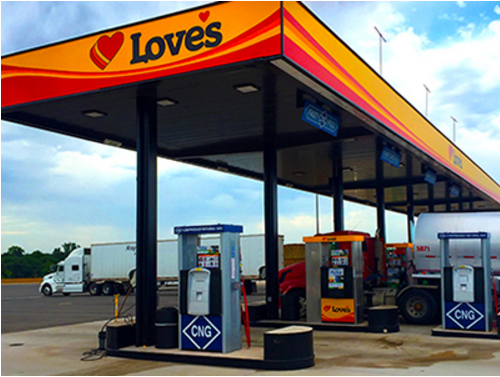 Love's Travel Stops is now offering fast-fill compressed natural gas (CNG) for heavy-duty trucks and a CNG fueling option for motorists at its current travel stop located on the east side of Interstate 35, Exit 157, in Guthrie, Okla.
Trillium CNG, part of the Love's family of companies, will maintain the CNG fuel systems at the travel stop to give customers continued reliable service.
"Trillium as the CNG affiliate of Love's strengthens the experience we can offer our customers," says Bill Cashmareck, general manager of natural gas for Love's. "Trillium is the best in the industry for CNG systems maintenance, and their expertise ensures operations will remain in top condition for years to come. Meanwhile, customers can expect the same level of service Love's stores are known for."
Love's says that adding CNG to Guthrie, located approximately 40 miles north of Oklahoma City, is ideal due to the heavy traffic I-35 experiences. Drivers can now fill up with CNG at four Love's locations on I-35 from San Antonio to Guthrie.
In addition to CNG, drivers can take advantage of Love's several services and amenities, including truck parking, TirePass and other Love's Truck Tire Care services, quick-service restaurants, and more. Love's says that its fast-fill CNG offers a fill rate of greater than 10 gallons per minute, meaning a driver can fill a 100-gallon equivalent tank in 10 minutes or less.
Love's says the Guthrie station is its 18th overall location to offer its fast-fill CNG. Together, Love's and Trillium own 65 CNG locations and operate nearly 100 additional locations.