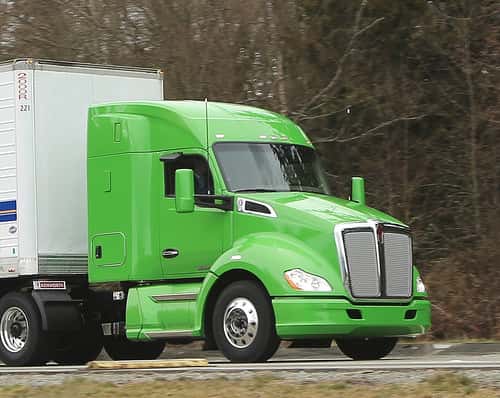 Kenworth Truck Co. says it is introducing a natural gas option for its Kenworth T680 heavy-duty tractor – a relatively new truck model designed for the full range of hauling applications.
The T680 came onto the market two years ago in day-cab and 76-inch sleeper configurations, and is also now available with a 52-inch mid-roof sleeper option. Going forward, T680 day cabs and 52-inch sleepers will be offered with an optional factory-installed Cummins Westport ISX12 G natural gas engine, rated up to 400 hp/1,450 lb-ft torque. The engine is compatible with either compressed natural gas (CNG) or liquefied natural gas (LNG).
'Our customers find it very appealing to be able to choose cost-efficient natural gas combined with the fuel-saving aerodynamics of the Kenworth T680,' says Andy Douglas, Kenworth's national sales manager for specialty markets. 'This important expansion of our T680 product line will provide customers in various applications with new benefits and cost-savings opportunities.'
Kenworth also offers the ISX12 G engine in its T660 trucks and the T800 optioned with a short hood and 116.5-inch bumper-to-back-cab.