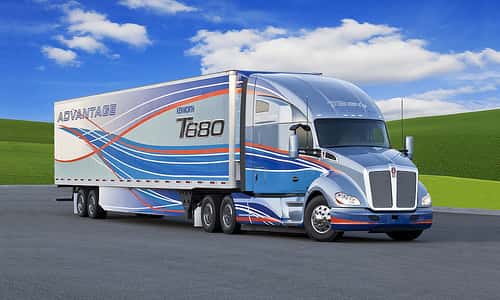 Kenworth has debuted its T680 Advantage truck, which the company designed to integrate powertrain, electronics and aerodynamics advancements in a tractor/trailer package to maximize fuel economy.
The truck features a 12.9-liter PACCAR MX-13 engine (rated up to 500 hp and 1,850 lb-ft of torque) with a new common-rail fuel-injection system and engine software updates. The MX-13 is paired with an Eaton UltraShift PLUS automated manual transmission. The Kenworth T680 Advantage also controls fuel usage with an electronic speed limiter and engine idle shutdown software.
Complementing the tractor is a Utility Trailer Manufacturing Co. trailer that features a Laydon trailer nose fairing, side skirts and a trailer tail. These components are all verified under the U.S. Environmental Protection Agency's EPA SmartWay program.
'The T680 Advantages shows the industry what's possible when you integrate the total vehicle,' says Kevin Baney, Kenworth's chief engineer. 'To gain the optimum in vehicle fuel economy, the trucking industry must view aerodynamics, powertrains drivers and trailers in concert.'