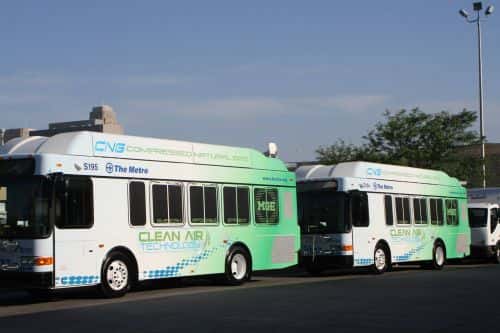 The Kansas City Area Transportation Authority has begun its deployment of transit buses that run on compressed natural gas (CNG), with the first two of potentially 300 or more rolling out in the city this week.
The agency currently has 23 additional CNG buses on order, and the balance of the bus fleet – which numbers approximately 300 units today – will shift to natural gas over the next 12 to 14 years, according to coverage from the Kansas City Star. In addition to all of the city's diesel buses, five hybrid-electric buses will also be retired and replaced with natural gas vehicles.
Agency officials told the Star that CNG can be purchased for about half the price of what diesel costs. The incremental cost of a CNG bus is about $40,000, but each bus will save the agency approximately $100,000 over its lifetime.
The major utility in the area, Missouri Gas Energy, will be upgrading the incoming natural gas service at the authority's operations center in order to accommodate high-pressure on-site CNG refueling.