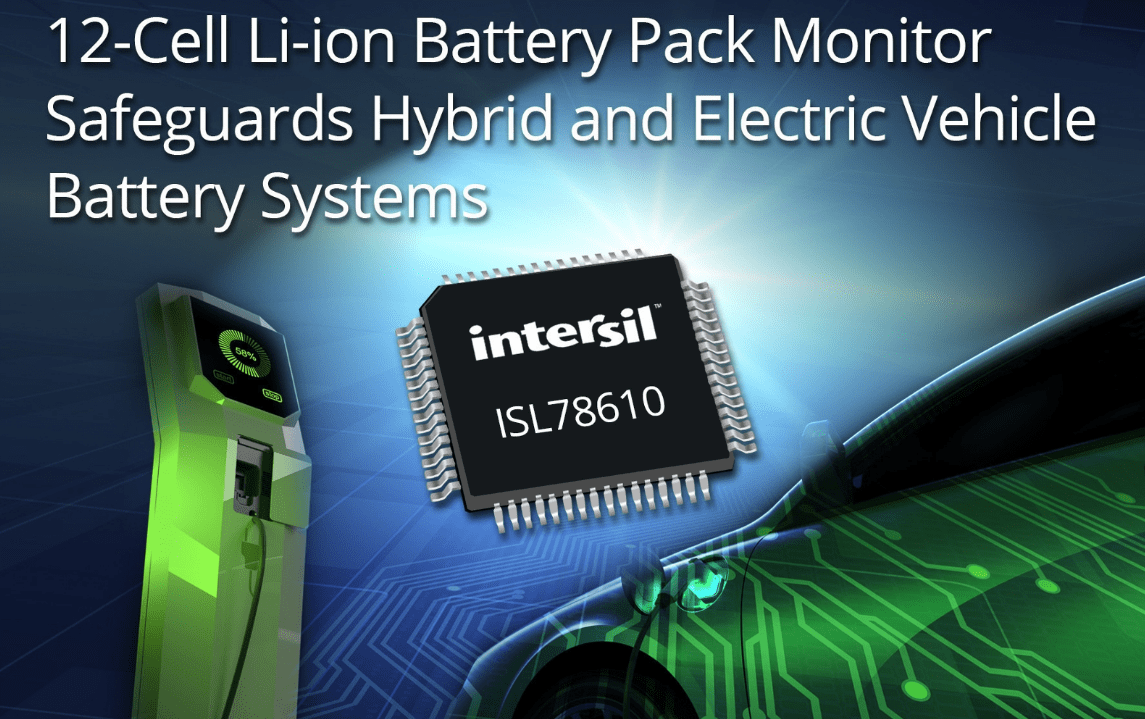 Intersil Corp., a provider of power management and precision analog solutions, has introduced the ISL78610 12-cell, lithium-ion (Li-ion) battery-pack monitor, which offers cell balancing and accurate voltage and temperature monitoring to safeguard Li-ion battery packs in electric vehicles (EVs), hybrid EVs and plug-in hybrid EVs.
According to Intersil, system designers can use the ISL78610 as a stand-alone battery-pack monitor or as a redundant backup device when combined with the ISL78600 multi-cell battery manager. This combination enables automobile manufacturers to achieve the higher ISO 26262 automotive safety integrity level (ASIL) D rating, adds the company.
Intersil says that the ISL78610 monitors and balances up to 12 cells with accurate voltage readings and diagnostics, letting system designers make informed decisions based on absolute voltage levels rather than simply receiving a "system not OK" signal, indicating an out-of-range condition.
The company continues, saying ISL78610 includes a voltage reference, 14-bit analog-to-digital converter and registers for control and data while connecting directly to a micro-controller through its 2.5 Mbps SPI interface.
Together, the ISL78610 and ISL78600 offer internal and external fault detection, including open wire, over and under voltage, as well as temperature and cell balancing faults to mitigate battery-pack failures. Intersil adds that multiple devices can be daisy-chained together to support systems with up to 168 cells using a proprietary communications system that provides transient and EMC/EMI immunity. A watchdog timer automatically shuts down a daisy-chained IC if communications is lost with the master micro-controller.
"The ISL78610 battery-pack monitor provides customers the right combination of Li-ion battery-pack monitoring and control features," says Philip Chesley, senior vice president of Precision Products at Intersil. "Teaming the monitor with the ISL78600 battery manager also gives carmakers the robustness, accuracy and redundancy required to achieve an ASIL-D-compliant battery management system."