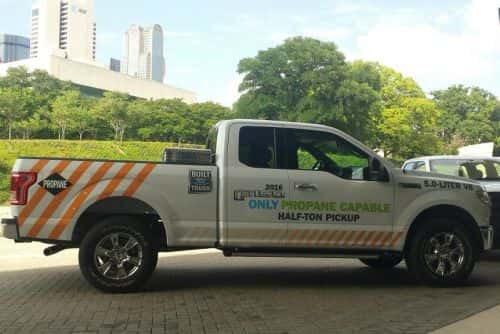 IMPCO Automotive has received certification from the U.S. Environmental Protection Agency (EPA) for its 2016 Ford F-150 liquefied petroleum gas (LPG) bi-fuel pickup truck with the 5.0 liter V8 engine.
IMPCO Automotive's 5.0-liter bi-fuel LPG F-150 conversion can be purchased through any Ford commercial dealership, with a ship-through option for IMPCO's Indiana Conversion Center.
The LPG bi-fuel system expands IMPCO Automotive's working-class pickup truck offering to now include the dedicated and bi-fuel compressed natural gas (CNG) F-250/F350, bi-fuel LPG & CNG F-150, along with the dedicated CNG Ford F650/F750 in all configurations. IMPCO also received EPA certification for its bi-fuel CNG-F-150 at the end of 2015.
"We are pleased to extend our product offering into the half-ton market with Ford. The F-150 addition to our already broad range (Class 1 through 7) of "working class" vehicles allows IMPCO to offer an alternative fuel solution that can fulfill most any need in the alternative fuel pickup truck market," says Jeff Hall, IMPCO's director of sales.