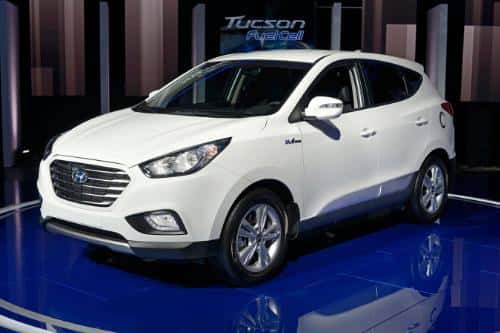 Automotive OEM Hyundai says its hydrogen fuel cell Tucson SUV will make its U.S. market debut in the spring of 2014 via several dealerships in Southern California.
The vehicle will initially be offered to customers in the Orange County region for $499/month for a 36-month term, with $2,999 down. As a key incentive, the company will be offering unlimited free hydrogen refueling, as well as its 'At Your Service Valet Maintenance' service at no cost.
'When we spoke to customers interested in driving a hydrogen fuel cell vehicle, many wondered what the cost of hydrogen would be,' says John Krafcik, president and CEO of Hyundai Motor America. 'To ease those concerns as we build out the hydrogen refueling network, we thought covering this cost for these early adopters in the monthly payment was the best approach, and consistent with other aspects of our Hyundai Assurance program.'
The first four Hyundai dealers to offer the fuel cell Tucson are Hardin Hyundai in Anaheim, Win Hyundai in Carson, Keyes Hyundai in Van Nuys and Tustin Hyundai. Availability of the vehicle will expand to other regions of the country 'consistent with the accelerating deployment of hydrogen refueling stations,' the company says.
Â
The rollout of the Tucson represents the first time that U.S. retail consumers can acquire a mass-produced, federally certified hydrogen fuel cell vehicle, according to Hyundai.