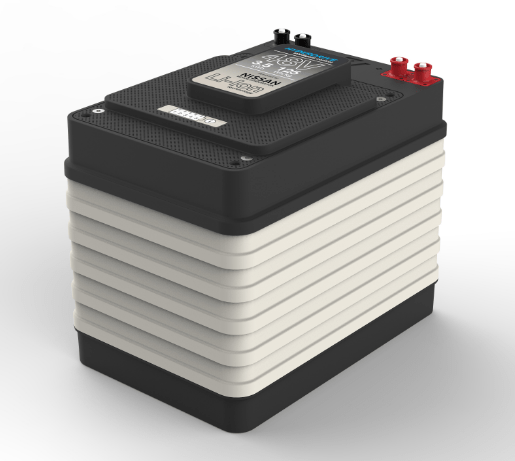 Hyperdrive Innovation, a technology company in electronic vehicle systems for automotive, industrial, offshore and subsea applications, says it has secured the supply of Nissan's LEAF lithium-ion battery technology for its own commercial products, which can be used to power electric vehicles (EVs) and hybrid electric vehicles (HEVs).
According to the company, it is incorporating the Nissan-developed, U.K.-made new and used battery modules into its own new intelligent battery systems, which can be deployed by manufacturers to power EVs and HEVs, as well as provide energy storage for off-grid and backup utility supplies.
Hyperdrive says the company is fitting the first battery packs into a number of niche, off-highway vehicles and scalable energy storage for both domestic and commercial markets.
"Making the Nissan LEAF technology available to ambitious U.K. businesses could have a major impact on the economy," said Hyperdrive Innovation's Managing Director Stephen Irish. "Resurgent U.K. car manufacturers, for example, would have to spend millions of pounds to develop their own electric vehicle batteries. The ability to acquire world-leading technology and engineering support via Hyperdrive instead could give U.K. car manufacturers a significant head-start in the race to deliver commercially successful electric vehicles.
"The commercial availability of this technology is also an enabler for homeowners, businesses and network operators to expand their energy storage capacity," he continued. "For homeowners, this means storing the energy they generate from renewable systems, such as roof-based solar panels; and for businesses, it will bring operational benefits, energy cost savings and grid continuity."
Kevin Fitzpatrick, Nissan's vice president for manufacturing in the U.K., said, "As part of our Intelligent Mobility strategy, Nissan is committed to exploring new technology-powered solutions for our customers that go way beyond the electric vehicle itself."
Nissan's EV range utilizes battery technology developed in-house by the company, and both the Nissan LEAF and battery manufacturing were launched in the U.K. at the brand's Sunderland manufacturing facility in 2013.