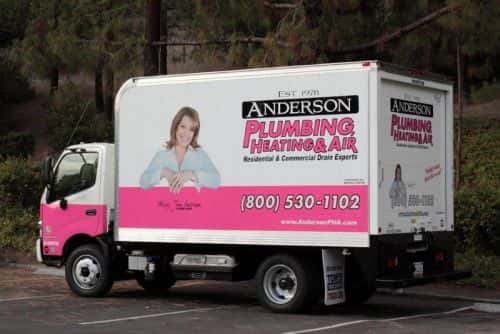 The fleet of Anderson Plumbing, Heating and Air, an HVAC contractor based in San Diego, has taken delivery of its first diesel-electric hybrid truck: a new Class 5 195h cab-over model from Hino Trucks.
The 19,500 lbs. GVWR 195h features Hino's 5.0-liter in-line four-cylinder J05E-TP engine and an Aisin A465 six-speed automatic transmission. This powertrain is paired to a 36 kW electric traction motor, nickel-metal hydride battery system and regenerative braking technology. Hino's proprietary Hybrid Adaptive Control System and Engine Control Unit is also featured on the truck.
'Our new super-green service vehicle is finally in the field,' says Mary Jean Anderson, president of Anderson Plumbing, Heating and Air. 'This is a breakthrough for our industry. We have been waiting a long time for a viable option for a hybrid that is designed to accommodate all of the equipment we take out to the field every day.'
The company's clean fleet also consists of hybrid Ford Transit service vehicles.