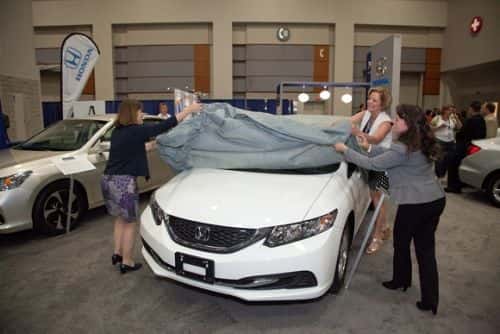 American Honda used this week's Alternative Clean Transportation (ACT) Expo as the occasion to unveil the model-year 2013 Civic Natural Gas – the only dedicated compressed natural gas (CNG) passenger vehicle offered by an OEM in the North American market.
The newest Civic Natural Gas deviates little from its 2012 predecessor, with a 'more handsome package' being the main difference between model years, according to Eric Rosenberg, assistant manager of Civic Natural Gas national sales and marketing.
He notes that the automotive press, in particular, often criticized the company for a perceived lack of aesthetics and overall polish on the 2012 vehicle. So, for 2013, American Honda focused mainly on subtle changes to the Civic's nose and tail styling, as well as the dash's appearance and functionality.
Much of the push to improve the Civic Natural Gas' look and feel is a response to the potentially massive upside of catering to the retail market. Rosenberg says fleets have long been the vehicle's champion, but everyday car buyers represent a building force for growth.
In turn, the new model maintains exactly what fleets have come to expect from the CNG Civic, but it incorporates improvements that will hopefully appeal to wider tastes.
The CNG system remains more or less untouched, Rosenberg notes. The fuel lines, injectors, 1.8-liter engine internals and CNG tank are all carryovers from model-year 2012, although tank manufacturer Worthington/SCI has incorporated some slight changes in the material composition of its cylinders.
In continuous production since model-year 1998, the Civic Natural Gas is coming off a streak of record-breaking sales. Although certainly small in relative terms, model-year 2012 sales of just over 4,000 units represents a big leap forward for the vehicle. Fleets purchased approximately 1,500 of those 4,000 cars.
The MSRP of the Civic Natural Gas is $26,465.