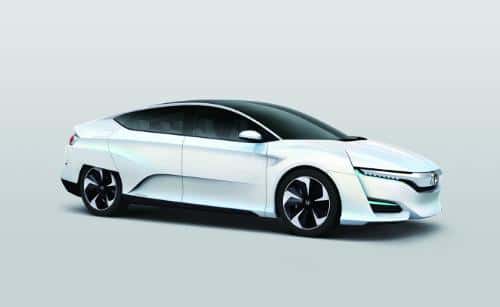 Honda has rolled out its next-generation concept hydrogen fuel cell vehicle, which is anticipated to launch in Japan by March 2016, followed by debuts in the U.S. and Europe.
The company says significant advancements in the fuel-cell stack have yielded more than 100 kW of power output. The power density is now 3.1 kW/L (an increase of 60%), with the stack size reduced 33% compared to the Honda FCX Clarity. The next-generation Honda FCV is targeted to deliver a driving range of more than 300 miles with a quick refueling time of about three to five minutes at a pressure of 70 MPa.
Honda's first-generation fuel-cell vehicle, the FCX, was launched in 2002. The FCX Clarity followed in July 2008. Honda also joined the public-private H2USA partnership last May, which brings together automakers, government agencies, hydrogen suppliers, and the hydrogen and fuel-cell industries to coordinate research and identify cost-effective solutions to deploy hydrogen refueling infrastructure in the U.S. The company also entered into a long-term agreement with General Motors in June 2013 to co-develop the next-generation of fuel-cell systems and hydrogen storage technologies.