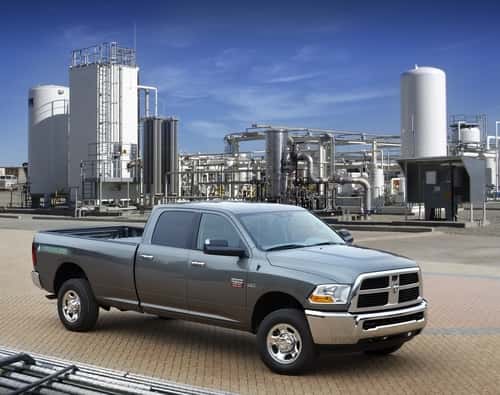 Chrysler Group says model-year 2012 Ram 2500 compressed natural gas (CNG) bi-fuel pickup trucks are now coming off the production line at its Saltillo Truck Assembly Plant in Mexico.
'From the moment we unveiled the Ram CNG, dealers – particularly those near CNG refueling infrastructure – strongly encouraged us to bring CNG to their stores. We're pleased that today Ram can deliver on that demand,' said Fred Diaz, president and CEO of the Ram brand and Chrysler de Mexico.
The company recently announced that the natural gas vehicle – the only such OEM-built truck in North America – would be made available to both retail and commercial customers.
'We felt there was a strong likelihood that customer demand would allow us to offer the Ram 2500 CNG to retail as well as fleet buyers,' Diaz noted.
The truck features the 5.7-liter HEMI V-8 engine with modified valves and valve seats to accommodate CNG fuel. Power is rated at 383 hp, and torque comes in at 400 lb.-ft. Two CNG tanks totaling just over 18 gasoline-gallon equivalent are housed in a 50 ksi steel box in the bed. The CNG-only range is approximately 250 miles, and a 32-gallon gasoline tank adds an additional 400+ miles.