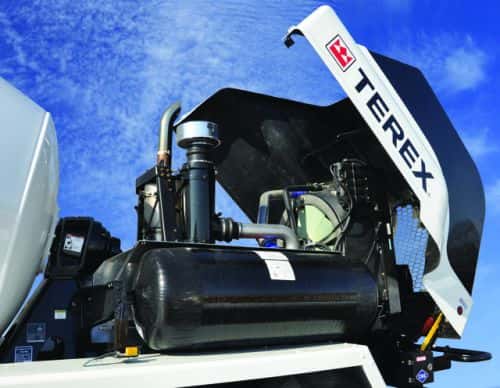 Terex Corp., one of the world's largest manufacturers of equipment for various construction industries, has debuted a Terex FD5000 'Great Lakes' front-discharge mixer truck powered by compressed natural gas (CNG).
This is the first model that the company has rolled out with a CNG option, but the company notes that all of its front-discharge mixer trucks – from three to seven axles – are now available with CNG. Natural gas systems can also be ordered with Terex glider trucks.
At the heart of this heavy-duty portfolio is the 11.9-liter Cummins Westport ISX12 G natural gas engine, available in 350-, 385- and 400-hp configurations (1,450-, 1350- and 1450-ft-lb torque, respectively). On-board CNG storage is handled via one 26′ x 80′ Type-4 CNG cylinder mounted to each side of the rear frame, providing 75 DGE in total capacity. All CNG tank safety shut-off valves, fill ports and service items are at ground level, and the weight distribution (between the axles) of CNG and diesel-fueled mixer trucks are 'virtually identical,' the company says.
'The 12-liter engines deliver the required performance and a substantial fuel-cost savings benefit when compared to diesel engines,' says Dave Rinas, director of sales and marketing for Terex Construction. 'We already have several customer orders for the CNG trucks.'
For more details about the Terex CNG-powered trucks, click here or send an email to aron.sweeney@terex.com.