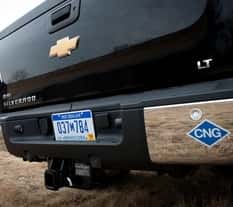 General Motors recently approved the start of deliveries of compressed natural gas (CNG) bi-fuel trucks that use Fuel Systems Solutions Inc.'s natural gas conversion equipment.
'Obtaining GM's decision to release the vehicles required the completion of an extensive development, testing, validation and approval process,' says Mariano Costamagna, CEO of Fuel Systems Solutions. 'We are proud of this accomplishment, which marks the commercial launch of bi-fuel pickups manufactured through our program with GM.'
The CNG conversions are performed at GM's facility in Union City, Ind., and thereafter distributed through GM's dealer network according to fleets' orders.
Fuel Systems Solutions also notes that it has received a new contract from GM that expands the CNG product offering for 2013 to include both the regular (135-inch) and extended (155-inch) wheelbase lengths for the Express and Savana cargo vans.