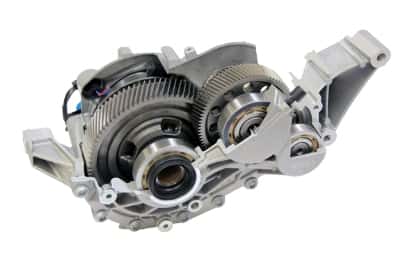 The GKN eAxle found on hybrid supercars, such as the Porsche 918 Spyder and BMW i8, is being made available for more affordable vehicles. The eAxle module will enable C-segment vehicles to offer buyers a plug-in hybrid option with improved performance and a reduction in CO2 emissions of more than 50%, says GKN.
The eAxle is an evolution of the system GKN designed for the Porsche 918 Spyder. The single-speed design weighs just 20.9 kg. A two-stage geartrain with a gear ratio of 12.5 provides up to 1,475 lb-ft of torque and 87 hp for a pure-electric driving mode and balanced wheel torques for all-wheel-drive mode. An electromechanically actuated dog clutch disconnects the electric motor at higher vehicle speeds, and an open coupling minimizes rotating losses when disengaged.
According to GKN, a typical C-segment plug-in hybrid could now have an engine output of around 134 hp, with a GKN eAxle supplying an additional 87 hp of electrical power. GKN says the eAxle can improve 0-60 mph acceleration times by several seconds, as well.
Front-wheel drive vehicle platforms can integrate GKN's eAxle modules into the vehicle's rear assembly to provide a combination of plug-in hybrid and electric all-wheel-drive functionalities. The eAxle can also be combined with GKN's eTwinster torque vectoring technology to further improve driving dynamics.
GKN introduced the eAxle technology in 2002, launching the industry's first high-voltage eAxle applications with PSA Peugeot Citroen in 2010. GKN launched the world's first two-speed eAxle in the plug-in hybrid BMW i8 and also supplies the eAxle on the Volvo XC90 T8 Twin Engine plug-in hybrid program.