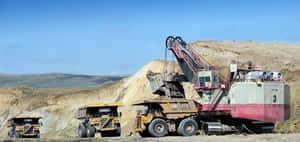 GFS Corp., a manufacturer of bi-fuel natural gas conversion systems for mine haul trucks, has released a new system designed for the Caterpillar 793D truck.
GFS says its new EVO-MT 7930 system joins the company's previous EVO-MT offerings for Caterpillar 793B and C model trucks, which have been available since mid-2012.
According to the company, the EVO-MT system allows mine operators to use both liquefied natural gas (LNG) and diesel fuel in their haul trucks. GFS says the first of the EVO-MT 7930 systems have been installed at a coal mine in the Powder River Basin.
'We are pleased to be able to offer another cost-saving solution for miners,' says Jason Green, GFS Corp.'s president and chief technology officer. 'Now that our EVO-MT systems are a proven technology, the next natural step is to roll out additional versions of the system designed for other haul truck makes and models.'
The company says it is currently taking orders for its EVO-MT systems designed for use on Komatsu 830 AC or DC, Komatsu 930E trucks, as well as Caterpillar 777 B, C and 793 B, C and D models.