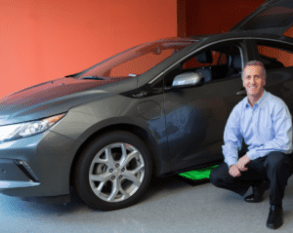 WiTricity, a wireless power transfer technology provider, says it is partnering with General Motors (GM) to test an advanced wireless charging system prototype for electric vehicles (EVs).
Specifically, the companies are working together to test WiTricity's Drive 11 park-and-charge system, designed for maximum efficiency and interoperability across vehicle platforms. The prototype testing focuses on wireless charging systems at 7.7 kW and 11 kW charge rates, capable of charging both battery-electric vehicles and extended-range electric vehicles, and is intended to comply with standards proposed by SAE International's J2954 Committee.
As reported, WiTricity's prototype wireless charging system allows a driver to simply pull into his or her garage and automatically receive power from a source below the vehicle. The system design works across all plug-in EV platforms and can be deployed as a "floor pad" in a consumer's garage, as well as installed under pavement to provide wireless charging in public and commercial parking lots.
"Wireless charging is a technology that our customers have told us they are interested in," says Pamela Fletcher, GM's executive chief engineer for electrified vehicles. "By testing the WiTricity prototype system, we can ensure that wireless charging systems will comply with proposed industry standards, which benefits the entire industry and consumers."
"The electric vehicle has been recognized as central to the future of mobility, and GM has been a leader, making EVs accessible to the broader market. The convenience of wireless charging will help accelerate adoption even further," says Alex Gruzen, CEO of WiTricity.
Catalyzing EV adoption through flexible park and charge experiences, WiTricity is working with major automakers and Tier 1 suppliers to bring the next generation of wireless EV charging to a commercial reality. Licensing agreements have been announced with Toyota, Delphi, TDK, IHI and BRUSA. WiTricity is also collaborating directly with carmakers to drive global standards for wireless charging systems.
Further, the company is also involved in standards initiatives, including the SAE International, International Electrotechnical Commission, International Organization for Standardization, STILLE and China Automotive Technology & Research Center.