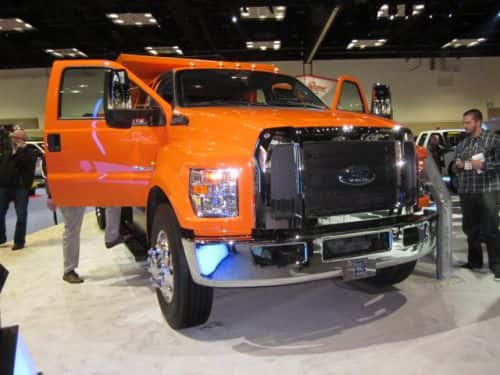 Ford Commercial Truck has debuted the new model-year 2016 Ford F-650/F-750 medium-duty work trucks, which will be available to fleets beginning in spring 2015.
A 6.8-liter V10 can be specced for both F-650 and F-750 models, paired with the 6R140 six-speed automatic transmission. The V10 can be factory-prepped for converting to compressed natural gas (CNG) or propane autogas.
The second-generation 6.7-liter Power Stroke V8 diesel and medium-duty six-speed TorqShift automatic transmission are also available equipment. The Power Stroke diesel will be available in three different horsepower and torque levels.
Ford says these vehicles will be offered in regular cab, crew cab and SuperCab variations, as well as in a straight-frame, dock-height and new dedicated-tractor model for heavy towing. Fleets can also order a power-takeoff provision for running accessories such as a dump body, crane or other vocational equipment.
Photo courtesy of NTEA/Work Truck Show 2014