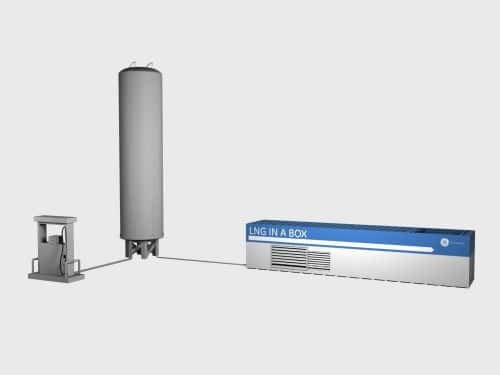 This week, GE Oil & Gas debuted its LNG In A Box system: a modular liquefied natural gas (LNG) refueling platform designed to accommodate the needs of fleets and other stakeholders in the transportation sector.
GE – which partnered with Chesapeake Energy Corp. affiliate Peake Fuel Solutions to introduce the CNG In A Box product last winter – says the new refueling solution will initially roll out in Europe through Gasfin subsidiary AIR-LNG. Gasfin/AIR-LNG will start by using five LNG In A Box systems in various station locations (the first being on the Italy/Slovenia border), and the initial agreement between the companies calls for the possible addition of 25 more units.
'As a quickly deployable, modular solution for LNG fueling, GE's new technology offers a good match for our innovative LNG 'fueling cluster' concept that can reduce highway congestion, help ensure gas quality and open new opportunities for natural gas throughout Europe,' explains Davor Grcevich, managing director of Gasfin.
LNG In A Box is designed to produce 10,000 to 50,000 gallons of LNG per day. GE says the product can be up and running in a location in as little as two months, and it can be removed and redeployed elsewhere.
'This industrial-scaled technology can help accelerate the build-out of natural gas fueling infrastructure and can enable the conversion of diesel-powered vehicles to more cost-effective, cleaner natural gas,' says GE Oil & Gas' Ujjwal Kumar.
Each system comes equipped with a gas pre-treatment system, cold box assembly and boil-off gas compressor, as well as a GE turboexpander compressor, high-speed reciprocating compressor, electric motor, driver and control system.
Rendering courtesy of GE