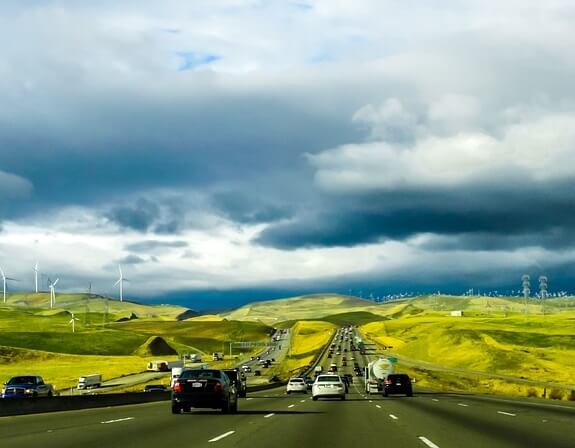 As expected, the U.S. Environmental Protection Agency (EPA) and U.S. Department of Transportation's (DOT) National Highway Traffic Safety Administration (NHTSA) have officially proposed new fuel economy and greenhouse-gas (GHG) emissions standards for model year (MY) 2021-2026 passenger cars and light-duty trucks.
The notice of proposed rulemaking (NPRM) – the Safer Affordable Fuel-Efficient (SAFE) Vehicles Rule for Model Years 2021-2026 Passenger Cars and Light Trucks (SAFE Vehicles Rule) – aims to "give the American people greater access to safer, more affordable vehicles that are cleaner for the environment," the agencies say in a press release. The NPRM is the "first formal step" in setting the corporate average fuel economy (CAFE) and light-duty vehicle GHG emissions standards that must be achieved by each automaker for its car and light-duty truck fleet, as mandated by Congress.
In today's proposal, the EPA and NHTSA are seeking public comment on a range of regulatory options, including a "preferred alternative" that "holds the stringency of targets constant and MY 2020 levels through MY 2026." However, beginning in MY 2021, "air conditioning refrigerant leakage, nitrous oxide and methane emissions are no longer included with the tailpipe CO2 for compliance with tailpipe CO2 standards." This alternative, the agencies say, offers a "much-needed time-out from further, costly increases."
The full list of alternatives, as laid out by the agencies, can be found below: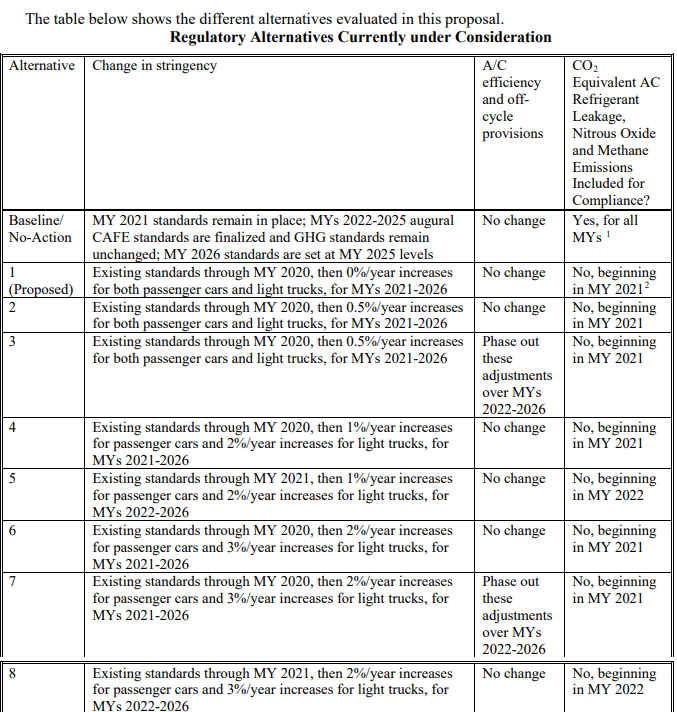 As compared to the 2012 standards set forth by the Obama administration, the agencies claim their joint proposal will "prevent thousands of on-road fatalities and injuries." The agencies also argue that the current standards have been a factor in the rising cost of new cars.
"We are delivering on President Trump's promise to the American public that his administration would address and fix the current fuel economy and greenhouse-gas emissions standards," says Andrew Wheeler, acting administrator of the EPA. "Our proposal aims to strike the right regulatory balance based on the most recent information and create a 50-state solution that will enable more Americans to afford newer, safer vehicles that pollute less. More realistic standards can save lives while continuing to improve the environment. We value the public's input as we engage in this process in an open, transparent manner."
"There are compelling reasons for a new rulemaking on fuel economy standards for 2021-2026," adds Elaine L. Chao, DOT secretary. "More realistic standards will promote a healthy economy by bringing newer, safer, cleaner and more fuel-efficient vehicles to U.S. roads, and we look forward to receiving input from the public."
On April 2, Scott Pruitt, then-administrator of the EPA, announced the completion of a midterm evaluation process for the standards and determined that they are not appropriate and thus should be revised.
"The Obama administration's determination was wrong," said Pruitt. "Obama's EPA cut the midterm evaluation process short with politically charged expediency, made assumptions about the standards that didn't comport with reality and set the standards too high."
According to the Sierra Club, the standards put in place under the Obama administration were part of a "grand bargain" among automakers, the NHTSA, the EPA, and the California Air Resources Board, along with buy-in from labor unions and environmental groups. The Sierra Club says the EPA and NHTSA rely on "convoluted and baseless claims" to justify their freezing fuel efficiency standards at 2020 levels, which would increase gas consumption by up to 500,000 barrels a day, the group says.
Michael Brune, executive director of the Sierra Club, calls the new proposal "one of the most significant attacks on clean air and climate action in history."
"Make no mistake – the Sierra Club and the American people will continue fighting to protect the clean car standards and the health of our communities," he adds.
Notably, the proposed rule also limits the ability of California to establish its own tailpipe emissions standards, the Sierra Club notes. Under the Clean Air Act, California has the right to set stricter standards, and other states may adopt those standards.
Following Pruitt's announcement in April, the State of California announced its leadership of an 18-state coalition to sue the EPA in May.
In response to today's news, Gov. Jerry Brown, D-Calif., issued the following statement:
"For Trump to now destroy a law first enacted at the request of Ronald Reagan five decades ago is a betrayal and an assault on the health of Americans everywhere. Under his reckless scheme, motorists will pay more at the pump, get worse gas mileage and breathe dirtier air. California will fight this stupidity in every conceivable way possible."
John Boesel, president and CEO of clean transportation nonprofit CALSTART, calls the proposal "a huge setback for the industry, especially suppliers that create two-thirds of all U.S. auto-related jobs."
"Automotive suppliers are making billion-dollar bets in high efficiency vehicle technology," he says, adding that the announcement will likely "provoke a long battle in the courts and create a tremendous amount of uncertainty."
He says, "If we want to create jobs and be real global competitors, we need to be moving ahead and working toward the current standards – not filing legal briefs and wasting our time in the courts."
On the other hand, NGVAmerica says the proposed standards suggest that natural gas is an "important part of the climate change battle."
"This joint proposal by the U.S. Department of Transportation and Environmental Protection Agency to update national automobile fuel economy and greenhouse-gas standards reflects a growing understanding in Washington that natural gas must be a growing part of the transportation fuel mix if we are to successfully address climate change concerns in a timely and cost-effective way," says Dan Gage, NGVAmerica's president. "NGVAmerica greatly appreciates the administration's work to offer a regulatory framework within which all alternative fuels, including natural gas, can compete based on their full emissions benefits."
According to NGVAmerica, the notice says, along with other natural gas citations, "EPA received input from several industry stakeholders who supported expanding [these] incentives to further incentivize vehicles capable of operating on natural gas, including treating incentives for natural gas vehicles on par with those for electric vehicles and other advanced technologies, and adjusting or removing the minimum range requirements for dual-fueled CNG vehicles."
Gage adds, "We are working so that, once concluded, this process to update fuel efficiency requirements will incentivize manufacturers to produce more NGVs and light-duty fleets to utilize more NGVs nationwide. Market realities prove consumers want choice. Increased natural gas options should be one, but we need a level playing field to make that happen."
The public will have 60 days to provide feedback once the NPRM is published in the Federal Register. More details can be found on the NHTSA's website here and the EPA's website here.