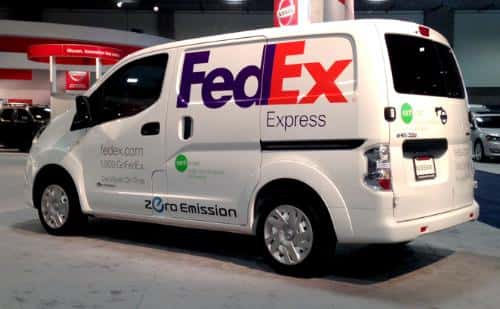 FedEx Express and Nissan say they will soon begin pilot testing of the all-electric e-NV200 cargo vehicle in FedEx Express' fleet in Washington, D.C.
FedEx will use the electric vehicle in field tests that mirror the routine requirements of a standard delivery vehicle. The results will be used to help determine the viability of using an EV in this role in the U.S.
'We're eager to work with FedEx and other companies to put the e-NV200 through its paces to continue to build awareness of the capability of electric vehicles and to evaluate how well it meets the needs of the commercial consumer,' says Erik Gottfried, Nissan's director of electric vehicle sales and marketing.
'We'd also like to explore clever uses of EVs in work environments where carbon emissions of gas-powered vehicles make them impractical or impossible to use,' he adds.
The e-NV200 has been tested in fleets in Japan, Singapore, the U.K. and Brazil, but this is the vehicle's first deployment in North America, according to the companies. The EV is scheduled to begin mass production later this year in Europe.