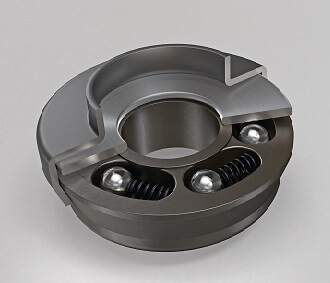 Federal-Mogul Powertrain is debuting a new, smaller version of its Rotocap valve rotator, whose design is particularly suited for engines running on alternative fuels such as compressed natural gas, propane or ethanol.
The new miniaturized design, which is used on four-valve-per-cylinder light-duty vehicle engines, features an outer diameter in the range of 20-25 mm and allows the Rotocap to package into the valve assembly on automotive powertrains. Rotocap provides enhanced valve rotation control, which helps compensate for the challenges caused by reduced valvetrain lubrication and engine downspeeding – two main design trends to achieve lower emissions and improve fuel efficiency.
Rotocap provides forced valve rotation with enhanced rotation control, also at lower engine speeds. Valve rotation ensures an even distribution of temperature around the seat, increasing durability by reducing local distortion and avoiding blow-by and crack formation across the sealing surface. In addition, rotation reduces wear on other components in direct contact with the valve.
The technology also reduces abrasive wear of the valve seat area, as the valve no longer rotates as it closes. This is beneficial on engines using LPG, CNG, ethanol or other alt fuels, which have generally higher seat wear ratios than gasoline or diesel.