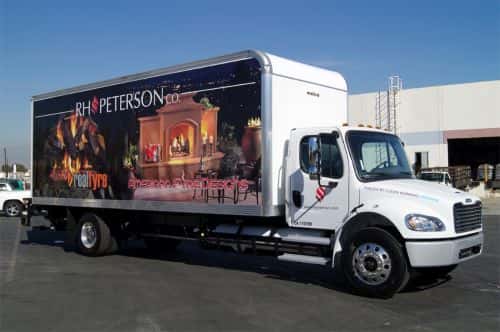 Freightliner Custom Chassis Corp. (FCCC) has showcased the first in-use box truck featuring its propane-autogas-powered S2G chassis.
RH Peterson, a manufacturer of specialty fireplaces and outdoor grills based in the City of Industry, Calif., took delivery of the first box truck version of the S2G in late 2014, using the truck for product delivery throughout Southern California. RH Peterson developed and added product-branding graphics to the box portion.
'We are very pleased with the truck – it has already become a very valuable part of our fleet,' says Dominique Seim, senior managing partner with RH Peterson. 'It offers us an outstanding combination of power, fuel efficiency and cost-effectiveness, and our drivers are very complimentary of the overall driving experience. They love the way the truck drives and handles. We're excited about adding additional trucks to our fleet in the near future.'
FCCC debuted the S2G in 2013 as a prototype and began full production at last year's Work Truck Show, where it displayed an S2G unit outfitted with a flatbed and crane on its back. The company says its initial focus was to market the S2G truck to the propane-delivery market, from which it has received 'strong interest and heavy initial orders.'
'We are very excited to see the growth of S2G into additional applications,' says Mike Stark, product manager for FCCC. 'We've believed all along that other applications and industries would be just as excited about the S2G and its unique benefits as propane distributors have been, so it's inspiring to see that vision starting to become reality.'
According to FCCC, the SG2 features an 8.0 LPG engine with a factory-installed CleanFUEL USA liquid propane system and also offers 339 hp at 4,100 rpm and 495 ft-lb torque at 3,100 rpm. The SG2 also comes with a three-year/50,000-mile warranty, the company notes.
Photo courtesy of Freightliner Custom Chassis Corp.