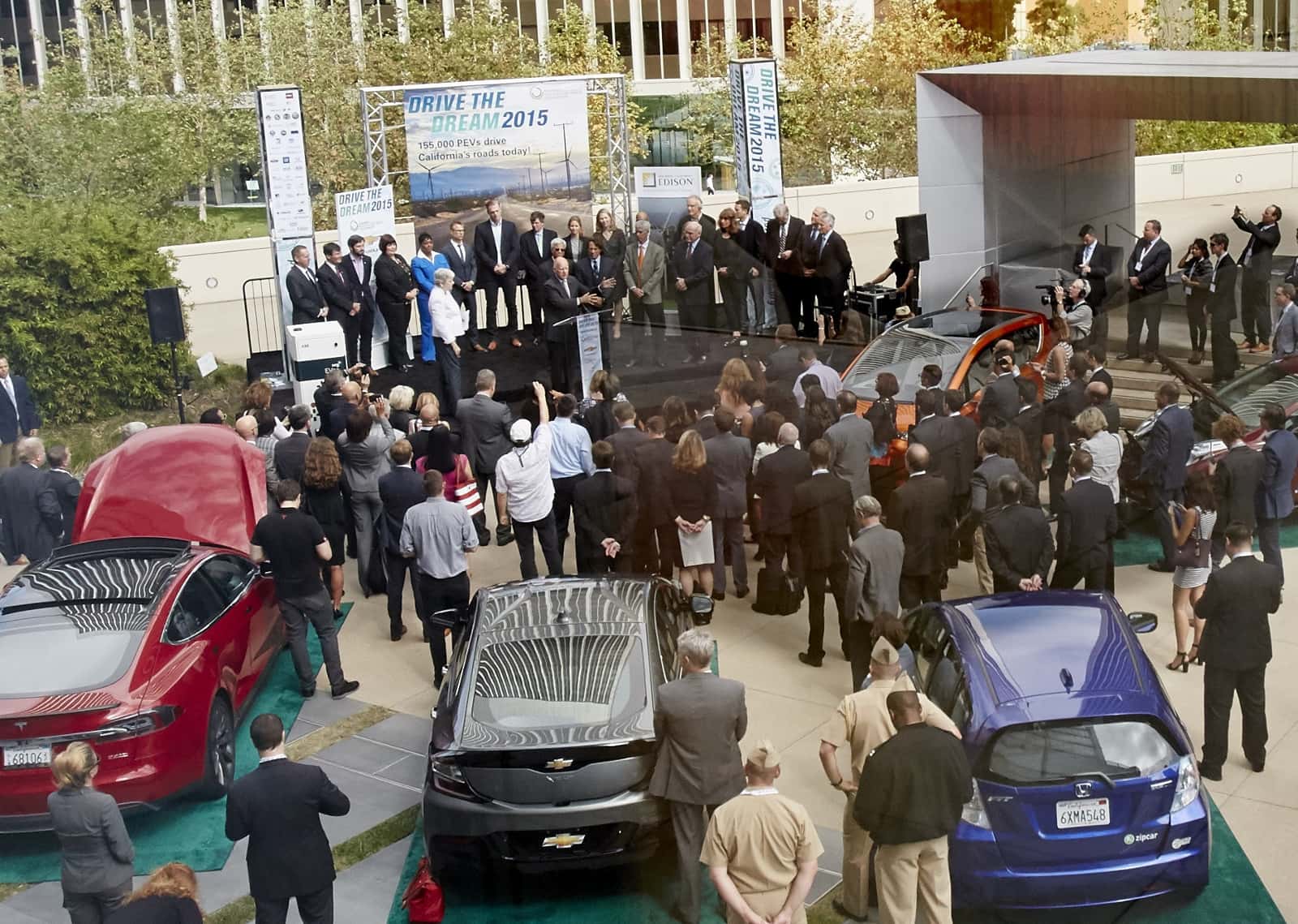 On Oct. 15, the California Plug-In Electric Vehicle Collaborative (PEVC), Gov. Jerry Brown and a group of California corporate, public-sector and industry representatives met at DRIVE THE DREAM 2015 to announce new initiatives to help accelerate the adoption of electric vehicles and workplace charging in the state. The event culminated with a press conference featuring Brown and showcased some of the latest plug-in electric vehicles and charging solutions.
According to the PEVC, some of the investments and initiatives announced at the event included the following:
– The U.S. Department of the Navy announced plans to lease more than 450 electric vehicles to replace gasoline-powered vehicles at Navy and Marine Corps bases across California.
– San Diego Gas and Electric (SDG&E) announced it will add more than 150 EV work vehicles to its fleet, including trouble trucks and aerial lifts. Since 2013, SDG&E has grown its workplace charging stations by 500% – from 26 to 158 in 2015. In addition, the utility has offered three shareholder-funded employee incentive programs that have grown their employee EV ownership by 300% – from 45 to more than 180. At the veent, SDG&E announced "Race to 500," the utility's commitment to get 500 employees driving electric cars by 2020.
– The Coca-Cola Co. announced a doubling of its 2013 commitment in California, adding charging stations at seven Coca-Cola facilities in California. Coca-Cola is deploying 28 hybrid-electric service vans in California, marking the largest commercial hybrid retrofit program ever in the state, according to the PEVC. Through a partnership with XL Hybrids, Coca-Cola has converted more than 280 of its service vans into hybrid-electric vehicles across the U.S. Coca-Cola currently operates more than 900 alternative fuel delivery vehicles on the road.
– Los Angeles Department of Water and Power (LADWP) announced it will purchase and lease 157 plug-in vehicles (117 Volts and 40 LEAFs) and EV chargers to support the vehicles. LADWP will make many of these fleet chargers available to its employees as workplace chargers. LADWP will also install 104 public chargers on city property, an investment of $5.5 million.
– Pacific Gas and Electric Co. has announced plans to invest one-third of its annual fleet purchases in electric vehicles and plug-in hybrid vehicles over the next five years – an over $100 million investment. The utility currently operates about 1,400 plug-in electric and hybrid vehicles.
– Southern California Edison announced that over the next 12 months, it is installing 50 additional Level 1 and 2 fleet charging stations to supplement its existing 340 charging stations that support its current fleet vehicles and future fleet acquisitions. The utility will also acquire 36 more plug-in EV fleet vehicles, an approximate $4.5 million investment.
– Honda announced it is adding 120 new electric vehicle chargers on its Torrance, Calif., headquarters campus.
– Ford Motor Co. announced that it has begun installing charging stations in California and currently has 145 units available for employee use at 43 Ford offices and manufacturing facilities in six states and Canada. There are plans to install 20 more in the near future, with ongoing discussions to increase the number in the long term.
– NBCUniversal announced it has invested in 64 charging spaces across its property in support of employees and guests who drive electric vehicles. Recently, 42 Level 2 charging spaces were added in parking lots across the lower lot, and eight Level 2 mobile charging stations were added for client temporary use upon request. In addition, 10 Universal City Plaza currently has two charging spaces, and an additional eight spaces will be installed in 2016.
– Vision Fleet announced a goal to work with corporate, government, and other fleets in California to deploy 2,000 plug-in EVs in the state by the end of 2016. The company committed to working with at least 10 in-state corporate partners to identify and address cost-effective EV opportunities.
Photo courtesy of Cindy Gold: Gov. Jerry Brown speaks at DRIVE THE DREAM 2015