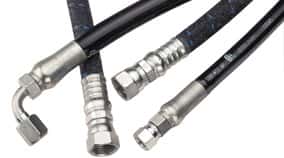 Eaton has launched a pair of new compressed natural gas (CNG) hoses for commercial vehicle applications. The high-pressure 35NG hose and low-pressure NG-TW hose for CNG applications have been tested by TÜV Rheinland and are among the first to be certified to ANSI NGV 4.2 Class A & D and ANSI NGV 3.1 Class B & C standards.
Primarily utilized in dispensing and commercial vehicle applications, such as refuse trucks, buses and delivery vehicles, the certified hose offerings ensure safety requirements and quality standards are met.
"With volatile oil prices and large natural gas reserves in North America, the market for CNG vehicles has expanded rapidly over the past few years, and end users are looking to clean-burning CNG to help reduce emissions and costs," says Chris Schwab, global product manager for Eaton. "Eaton is committed to offering reliable CNG products and stocking TÜV-certified hoses for express delivery."
The hose assemblies are designed to dissipate static electricity for safety. Additionally, the 35NG hose offers low volumetric expansion and available twin-line designs.
Constructed with a Teflon resin tube, a stainless steel wire braid and a fire retardant cover, the low-pressure NG-TW hose is built to withstand the high temperatures found under the hood – up to 121 degrees C. The NG-TW hose is also extremely flexible and offers a low permeation rate.