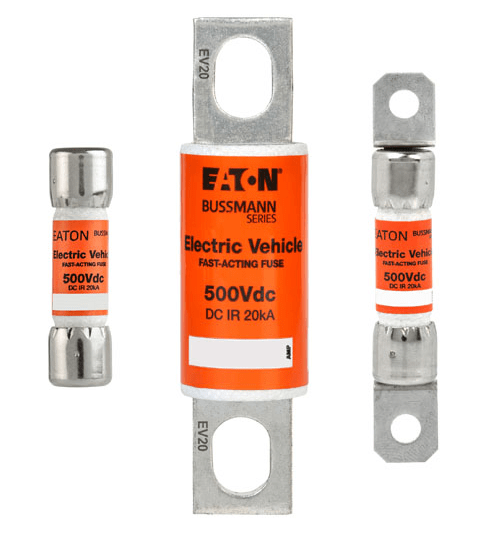 Power management company Eaton has released its new Bussmann series electric vehicle (EV) fuses designed to provide enhanced circuit protection while incorporating new technologies that promote a vehicle with higher performance and longer range.
According to Eaton, the fuses are specifically designed to protect sensitive electric and hybrid automotive equipment, including high-voltage, high-capacity batteries; power conversion equipment; contactors; cabling; and other auxiliary circuits – enhancing electrical system safety and reducing potential warranty costs.
With protection as low as 135% of rated current, Eaton says its EV fuses can protect a wider range of overcurrent conditions while avoiding nuisance operations associated with cycling fatigue. Additionally, the fuses are engineered with a 20 kilo ampere interrupting rating to enable longer vehicle range by protecting higher-capacity and more efficient batteries with higher fault currents.
"With electric and hybrid vehicle applications, electrical systems are often pushed to their limits," said Kevin Calzada, product manager for Eaton. "We've leveraged more than 100 years of technical experience to deliver the reliable, predictable protection that tomorrow's electric vehicles demand."
Eaton says the compact and lightweight Bussmann series EV fuse design requires up to 48% less space and weighs up to 50% less when compared with traditional high-speed fuses used for EVs. This compact form factor also helps achieve longer vehicle range by enabling smaller assemblies and improved energy efficiency.
According to Eaton, the fusible solutions are available in three bolt-on case sizes to protect high-power battery charging and management systems up to 500 V DC in ratings from 50 to 400 amps. Compact 10×38 mm fuses are also available to protect auxiliary electrical systems up to 500 V DC in ratings that span 5 to 50 amps and feature four termination styles to match application needs.
To read more about the Bussmann series, click here.