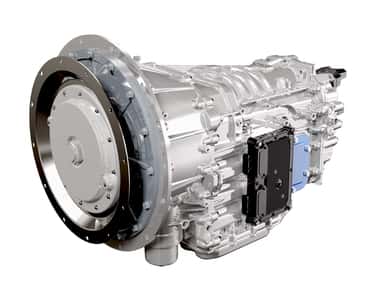 Eaton has developed a new family of medium-duty dual-clutch transmissions, the Procision line, that the company says results in a 10% increase in fuel economy compared to a similar vehicle with a torque converter automatic.
Scheduled to be available in North America next year, the seven-speed transmissions feature a dual-clutch design and electronic shifting that uses grade, vehicle weight and throttle input to provide optimal fuel efficiency and smooth, continuous delivery of torque to a vehicle's wheels under all shift conditions, the company says.
'Small businesses rely on their Class 6 and 7 medium-duty trucks to deliver goods and perform tough jobs on a daily basis,' says John Beering, senior vice president and general manager of Eaton Commercial Vehicle Transmission. 'The all-new Eaton Procision is the first dual-clutch transmission for Class 6-7 in North America. Its smart features deliver more savings and driver confidence, and is the ideal transmission solution for medium-duty applications.'
The dual-clutch module is fully contained within the transmission, hydraulically controlled and oil-cooled for extended life. A five-spring damper is used to control torsional vibrations and is fully sealed to eliminate contamination. Features such as Eaton Dynamic Shifting allow the transmission to automatically switch between economy- and performance-shift schedules based on mass, grade and driver demand. Base shift results are modified dynamically based on available torque, engine acceleration and grade.
Eaton adds that the Procision design life is 10 years/400,000 miles. The transmissions carry a three-year/unlimited-mile warranty, which covers the complete system, including the dual-clutch module. School bus applications receive a five-year/unlimited-mile warranty.
For more details about the new product, click here.